Autor:
Stephanie Rowe
Série:
Mystic Island #1
Editor:
SBD Press
Edição/reimpressão:
Novembro de 2015
ISBN:
9781940968193
Páginas:
160
Sinopse: New York Times bestselling author, Stephanie Rowe, unveils her heartwarming new Mystic Island series, where love always finds a way in this enchanting coastal Maine community. In Wrapped Up In You, can a moonlight kiss from twelve years ago heal two hearts that no longer believe in love?

Haunted by his tragic past, Cole Charbonneau has returned to Mystic Island to sever the final ties to the place he once loved so dearly. His only goal is to walk away forever, until a woman from his past winds up on his doorstep, needing from him the one thing he can't give.

After a heartless betrayal by those she trusted dearly, Willow Morgan has escaped to Mystic Island, hoping the magic of an island Christmas will heal the emptiness in her heart. The last thing she wants is love, but Mystic Island has its own plans for her…and they include a kiss she'd almost forgotten and the devastatingly handsome business mogul who touched her heart so long ago. Can she afford to fall for him a second time?

A minha opinião: Wrapped Up In You é um romance tão fofinho! Tem tudo o que eu adoro num conto natalício!
Cole Charbonneau está de volta a Mystic Island após a morte da mãe para preparar a pousada da família para ser vendida. No ferry para a ilha encontra uma mulher no convés. Ela é tão misteriosa como é bela e claramente esconde qualquer coisa. Mas ele acaba por a beijar...
Willow Morgan está de volta a Mystic Island em busca de um sentido para a sua vida. Um sentido que só encontrou uma vez, nessa mesma ilha, quando era adolescente e conheceu um rapaz na praia. E que melhor época do que o Natal que é supostamente mágico na ilha? Mas nunca pensou que a magia começasse logo na viagem para lá...
Contudo, ao chegar à ilha descobre que houve uma confusão com a sua reserva e o único sítio onde poderá arranjar um quarto é na pousada de Cole. A última coisa que ele quer é ter um hóspede, se bem que já que tem de ser, então que seja ela!
Nem um nem outro estão à procura de amor, mas a ilha é famosa por dar às pessoas o que elas precisam, o que nem sempre corresponde ao que querem.
Adorei! A proximidade forçada, a magia de uma cidade pequena e um beijo adolescente... como não adorar? A Willow e o Cole são um par muito fofinho, cada um com os seus traumas e problemas a ultrapassar, mas sempre a apoiarem-se mutuamente e a trazer ao de cima o melhor do outro. Tão fofos!
Vou querer voltar a Mystic Island...
Wrapped Up In You
é mais uma das novelas incluída na antologia de novelas
Mischief Under the Mistletoe
.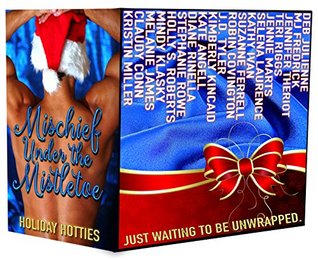 Classificação:
5
-------------------------------------------------------------------