Autor:
Melanie James
Editor:
Black Paw Publishing
Edição/reimpressão:
Dezembro de 2015
ASIN:
B01904KNU8
Páginas:
98
Sinopse: With two men vying for her affection, Abbie's heart is torn between the two. One has always been there for her, no matter what. The other left when she needed him the most.
A minha opinião:
Dylan Parker deixou a pequena cidade em que sempre viveu da única forma que conseguiu: alistando-se na Marinha. Mas, ao fazê-lo, desiludiu o pai que esperava que ele tomasse conta do negócio da família e a namorada Abigail Johnson que esperava que casassem.
Agora está de volta, seis anos depois, para o funeral do pai. E está a ajudar a mãe no bar da família quando Abbie, agora polícia, aparece a responder a uma queixa de desacatos. O encontro não é propriamente romântico, mas dá para perceber que a chama ainda lá está. Dylan está determinado a conseguir que Abbie lhe dê uma segunda hipótese e a reconquistá-la, mas ela está a esconder um segredo que ele poderá nunca lhe perdoar...
Gostei bastante deste conto sobre segundas oportunidades. A Abbie e o Dylan são um casal muito fofo, que na verdade nunca deixou de se amar, mesmo com todo o tempo e a distância entre eles. E o elenco de personagens secundárias também é fantástico. Vou ficar atenta a mais coisas da autora.
Snowflakes, Exes and Ohs
é mais uma das novelas incluída na antologia de novelas
Mischief Under the Mistletoe
.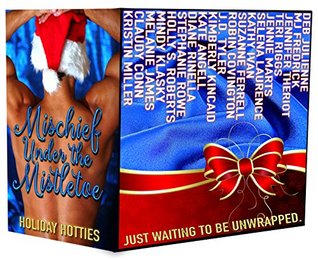 Classificação:
4
-------------------------------------------------------------------