Autor:
Mindy Klasky
Série:
Harmony Springs #0.5
Editor:
Book View Café
Edição/reimpressão:
Dezembro de 2015
ISBN:
9780985455571
Páginas:
160
Sinopse: A sweet and sexy small town contemporary romance.

Lexi Taylor never let herself be defined by the fire that burned her when she was just a kid. Now, she happily works at The Christmas Cat, a year-round holiday boutique. So what if she wears long sleeves to hide her scars? Who cares if her relationships don't last long enough for a lover to see her damaged back?

Tom "Finn" Finnegan is one week out of the Army, fresh from Afghanistan. He vowed to visit the parents of J-Dawg, his best friend who was killed by a roadside bomb almost a year ago. But promises are easier made than kept—especially when J-Dawg haunts Finn's dreams.

When he literally stumbles into The Christmas Cat, Finn shatters dozens of ornaments, not to mention Lexi's peace of mind. The only way he can repay her is to take on handyman work in her store. But "other duties as assigned" takes on new meaning when sparks sizzle between the couple. Can Lexi and Finn find the key to healing each other's scars as Christmas approaches in Harmony Springs?
A minha opinião:
Lexi Taylor é a dona da loja The Christmas Cat, a loja de decorações natalícias de Harmony Springs. Não é de estranhar que o Natal seja a sua altura de maior negócio. Por isso, quando Tom Finnegan derruba e parte as suas decorações mais caras, ela sugere-lhe que ele trabalhe na loja para pagar a dívida.
Finn acaba de chegar do Afeganistão, tendo sido dispensado do Exército, e encontra-se em Harmony Springs para cumprir a promessa de visitar os pais do seu melhor amigo J-Dawg, morto por uma bomba há quase um ano. Mas ele acaba sempre por arranjar desculpas para adiar a visita e não ajuda o facto de o fantasma de J-Dawg o atormentar.
Nem Finn nem Lexy têm qualquer intenção de se envolver romanticamente com alguém, mas a atracção que sentem um pelo outro só aumenta à medida que passam mais tempo juntos na loja. E considerando que Finn está só de passagem pela cidade, que mal há em aproveitarem esse tempo juntos? Mas o que acontecerá quando for altura de se separarem? Será que irão conseguir?
Gostei muito deste conto. O Finn e a Lexy são duas personagens muito sofridas, com cicatrizes exteriores, mas também interiores, que trazem ao de cima o melhor de cada um. O drama do Finn é particularmente pungente, já que ele sofre de culpa de sobrevivente. Foi bom assistir ao percurso dele até à aceitação e ao início do processo de recuperação. Foi refrescante que a autora não tenha recorrido ao conto de fadas em que o amor cura tudo, mas tenha mantido as coisas credíveis ao demonstrar que ambos estão melhores juntos, mas que ainda têm muito que trabalhar para recuperar plenamente.
Fly Me to the Moon
é mais uma das novelas incluída na antologia de novelas
Mischief Under the Mistletoe
.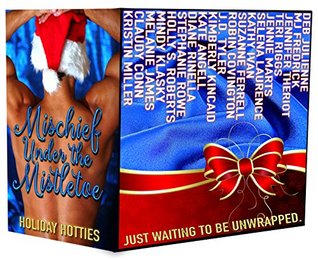 Classificação:
4
-------------------------------------------------------------------