Já vem a meio do mês, mas estas são as novidades internacionais de Fevereiro que me despertaram a atenção:
When You Open Your Eyes
Robin Covington
Burning Up the Sheets, LLC.
88 pp.
Publicado a 1 de Fevereiro
War tore Gabe and Ellie apart, shattering their dreams of a future. Three years later, Gabe has almost given up any hope that she will come back to him when Ellie returns just before the holidays. He wants nothing more for the damaged, stubborn woman he loves to stay with him forever but Ellie is ready to run as soon as the gifts are opened. Chased by her nightmares, Gabe's only hope of keeping Ellie is to convince her that he'll be there when she opens her eyes.
*Previously published in an anthology*
Li esta novela em 2015, na antologia onde foi inicialmente publicada. Agora é, finalmente, publicada sozinha.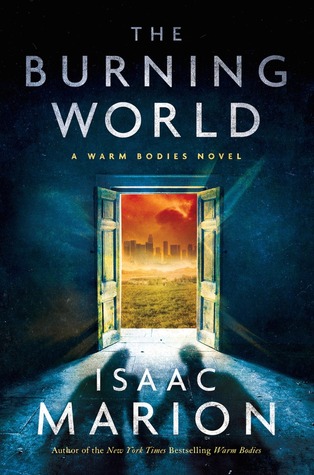 The Burning World
Warm Bodies #2
Isaac Marion
Atria
512 pp.
Publicado a 2 de Fevereiro

R is recovering from death.
He's learning how to breathe, how to speak, how to be human, one clumsy step at a time. He doesn't remember his old life and he doesn't want to. He's building a new one with Julie.
But his old life remembers him. The plague has another host far more dangerous than the Dead. It's coming to return the world to the good old days of stability and control and the strong eating the weak, and stopping it will require a frightening journey into the surreal wastelands of America—and the shadowy basement of R's mind.
Finalmente a continuação de Warm Bodies! Acho que foi a única obra de Zombies de que gostei. Quero muito ler a sequela...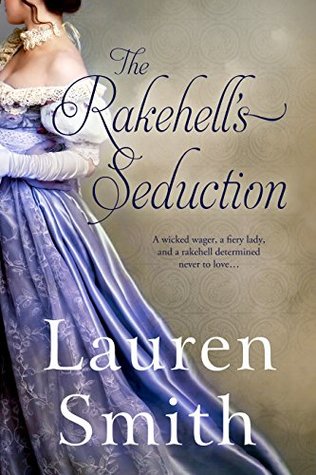 The Rakehell's Seduction
Seduction #2
Lauren Smith
195 pp.
Publicado a 6 de Fevereiro

HE'S MADE A DANGEROUS WAGER
Ambrose Worthing is no gentleman. He's a proud cold-hearted rake who's determined to stay a bachelor forever. He enjoys bedding a different woman every night without the risk of falling in love. When he hears about a wager over the seduction and ruination of the daughter of his father's best friend, he knows he must intervene. Committing himself to the bet, he agrees to seduce Lady Alexandra Rockford—for her own good. He never expected the lady in question to be a beautiful, fiery creature who has passions of her own that call to his guarded heart.
SHE'S VOWED NEVER TO FALL IN LOVE AGAIN
Alexandra Rockford has sworn off men, her heart still broken from the false promises of a childhood sweetheart who left her to marry an heiress. When she stumbles into Ambrose outside of a country ball, she knows the rake his trouble. His smile, his touch, his forbidden kiss are all too tempting but being with him would ruin her. Determined to enjoy herself without falling in love, Alex can't help but let her defenses down with the too charming rake. But when she discovers Ambrose is seducing her to win a bet, it will take everything Ambrose has to prove to her that he is worthy to love her.
Descobri esta autora no ano passado e agora quero ler todos os seus livros!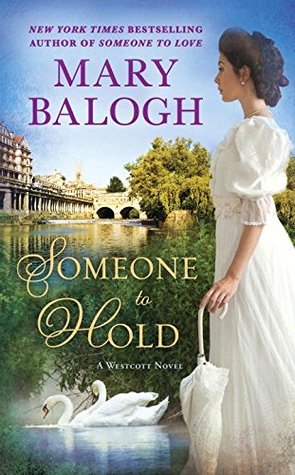 Someone to Hold
Westcott #2
Mary Balogh
Jove Books
400 pp.
Publicado a 7 de Fevereiro
Humphrey Wescott, Earl of Riverdale, has died, leaving behind a fortune and a scandalous secret that will forever alter the lives of his family—sending one daughter on a journey of self-discovery...
With her parents' marriage declared bigamous, Camille Westcott is now illegitimate and without a title. Looking to eschew the trappings of her old life, she leaves London to teach at the Bath orphanage where her newly discovered half-sister lived. But even as she settles in, she must sit for a portrait commissioned by her grandmother and endure an artist who riles her every nerve.
An art teacher at the orphanage that was once his home, Joel Cunningham has been hired to paint the portrait of the haughty new teacher. But as Camille poses for Joel, their mutual contempt soon turns to desire. And it is only the bond between them that will allow them to weather the rough storm that lies ahead...
Outra série que espero ver publicada por cá...
Crossing Hearts
Cross Creek #1
Kimberly Kincaid
Montlake Romance
342 pp.
Publicado a 7 de Fevereiro
Hunter Cross has no regrets. Having left his football prospects behind the day he graduated high school, he's happy to carry out his legacy on his family's farm in the foothills of the Shenandoah. But when a shoulder injury puts him face-to-face with the high school sweetheart who abandoned town—and him—twelve years ago, Hunter's simple life gets a lot more complicated.
Emerson Montgomery has secrets. Refusing to divulge why she left her job as a hotshot physical therapist for a pro football team, she struggles to readjust to life in the hometown she left behind. The more time she spends with Hunter, the more Emerson finds herself wanting to trust him with the diagnosis of MS that has turned her world upside down.
But revealing secrets comes with a price. Can Hunter and Emerson rekindle their past love? Or will the realities of the present—and the trust that goes with them—burn that bridge for good?
Li um conto da autora este Natal e fiquei curiosa para ler mais...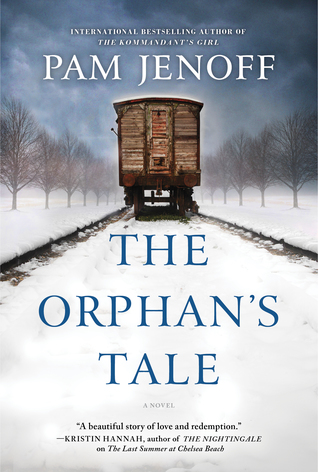 The Orphan's Tale
Pam Jenoff
Mira
368 pp.
Publicado a 21 de Fevereiro
A powerful novel of friendship set in a traveling circus during World War II, The Orphan's Tale introduces two extraordinary women and their harrowing stories of sacrifice and survival.
Sixteen-year-old Noa has been cast out in disgrace after becoming pregnant by a Nazi soldier and being forced to give up her baby. She lives above a small rail station, which she cleans in order to earn her keep… When Noa discovers a boxcar containing dozens of Jewish infants bound for a concentration camp, she is reminded of the child that was taken from her. And in a moment that will change the course of her life, she snatches one of the babies and flees into the snowy night.
Noa finds refuge with a German circus, but she must learn the flying trapeze act so she can blend in undetected, spurning the resentment of the lead aerialist, Astrid. At first rivals, Noa and Astrid soon forge a powerful bond. But as the facade that protects them proves increasingly tenuous, Noa and Astrid must decide whether their friendship is enough to save one another—or if the secrets that burn between them will destroy everything.
Já li um livro desta autora e já tenho este para ler.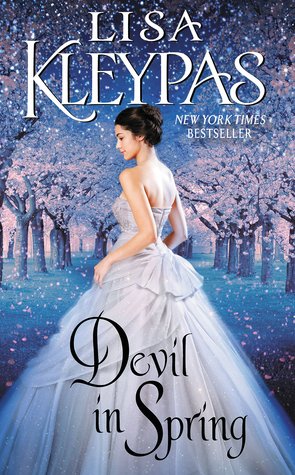 Devil in Spring
The Ravenels #3
Lisa Kleypas
Avon
384 pp.
Publicado a 21 de Fevereiro
An eccentric wallflower…
Most debutantes dream of finding a husband. Lady Pandora Ravenel has different plans. The ambitious young beauty would much rather stay at home and plot out her new board game business than take part in the London Season. But one night at a glittering society ball, she's ensnared in a scandal with a wickedly handsome stranger.
A cynical rake…
After years of evading marital traps with ease, Gabriel, Lord St. Vincent, has finally been caught-by a rebellious girl who couldn't be less suitable. In fact, she wants nothing to do with him. But Gabriel finds the high-spirited Pandora irresistible. He'll do whatever it takes to possess her, even if their marriage of convenience turns out to be the devil's own bargain.
A perilous plot…
After succumbing to Gabriel's skilled and sensuous persuasion, Pandora agrees to become his bride. But soon she discovers that her entrepreneurial endeavors have accidentally involved her in a dangerous conspiracy-and only her husband can keep her safe. As Gabriel protects her from their unknown adversaries, they realize their devil's bargain may just turn out to be a match made in heaven...
Vamos esperar que esta série seja publicada por cá...
In The Name of the Family
Sarah Dunant
Hachette Australia
480 pp.
Publicado a 28 de Fevereiro
1502 and Renaissance Italy is in turmoil. Backed by the money and wily power of his aging father Pope Alexander VI, Cesare Borgia is soaring like a military comet, carving out a state for the Borgia dynasty. From Florence, a young diplomat, one Niccolo Machiavelli, is sent to shadow him to keep track of the danger. While many tremble in the presence of this brilliant unscrupulous man, Machiavelli is entranced and the relationship he forges with Cesare allows him - and us - to witness history in the making.
Meanwhile, the Pope's beloved daughter Lucrezia is on her way to a third dynastic marriage in the state of Ferrara, where if she is to survive she must fast produce an heir for the rival Este family. Cesare holds his sister dear, but striving always for conquest rather than conciliation, he pays little mind to her precarious position. As the Borgia enemies gather, in Rome, the pope grows older and ever more cantankerous.
Drawing us in with her dynamic prose and intimate knowledge of one of the most fascinating periods in Italian history, Sarah Dunant dramatises the rise of one of history's most fascinating characters, Niccolo Machiavelli, during the formative years of his life. In the Name of the Family breathes new life into the daring and corruption of a family that history will never forget. This is a moment from which no one will emerge unscathed.
Ainda só li um livro desta autora, mas adorei.
Puppy Love
Redwood Ridge #1
Kelly Moran
Kensington Publishing Corporation
Publicado a 28 de Fevereiro
After a passionless marriage under the scrutiny of high society, Avery Stowe is taking back her life. All she wants is a little privacy and a quiet place to raise her autistic daughter, Hailey. Redwood Ridge, Oregon, seems to offer all the right ingredients. Except for the problem of the local sexy veterinarian. The last thing she needs in her life is to fall for his irresistible allure, even if he is a nice guy who keeps doing her favors. But the well-meaning patrons of her new hometown have other ideas, and it appears playing Cupid is one of them.
Cade O'Grady has never met a woman he couldn't handle, but when Avery Stowe walks into his office late one night cradling an injured puppy, he's struck stupid. Which might explain her total lack of interest in him. But now that she's working for his family's clinic, he doesn't have to lust from a distance. He might just have a chance at convincing Avery—and her too-guarded heart—that falling for the right man isn't a mistake . . .