Autor:
Claudy Conn
Editor:
B & C Publishing
Edição/reimpressão:
Dezembro de 2015
ASIN:
B0198RI7LE
Páginas:
155
Sinopse: Charlie knows when she first sees Wade Devon that he is trouble.
She can tell that Wade likes to win. It is what he does.
He is used to getting what he wants and he makes it obvious that he wants her…no strings attached. So she has to ask herself, should she, or shouldn't she?
A minha opinião:
Nem sei bem por onde começar... Basicamente é a história de um homem muito rico, Wade Devon, habituado a ter tudo o que quer e que decide que quer a Charlie Wells.
Ele compra a quinta de cavalos que era da família dela (sendo que ele já andava à procura de uma, mas foi a Charlie que o fez decidir-se por aquela...), mas aceita que ela continue a viver num apartamento na propriedade desde que ajude sempre que necessário e o mantenha informado do que se passa. Porque, obviamente, ele planeia seduzi-la quando for à quinta.
E convenhamos que, tratando-se de uma novela, não é assim tão difícil para ele seduzi-la... O pior é que ele tem
problemas com compromissos, mas ela é tão especial, e agora o que é que ele vai fazer?!?
Pelo meio há alguém que não quer mesmo nada que eles fiquem juntos o que, obviamente, contribui para que eles fiquem juntos.
A novela não é má, lê-se bem e a escrita da autora é agradável, mas não posso dizer que tenha ficado encantada. O problema provavelmente é meu, mas estou cansada da fórmula homem-muito-rico-mas-com-problemas-e-traumas-conhece-mulher-especial-que-o-muda... E tenho cada vez menos pachorra para este tipo de machos alpha, intrometidos, mandões e controladores. Quer dizer, o homem até lhe tira a chave da mão para ser ele a abrir a porta da casa DELA! Haja paciência!
Collide & Burn
é mais uma das novelas incluída na antologia de novelas
Mischief Under the Mistletoe
.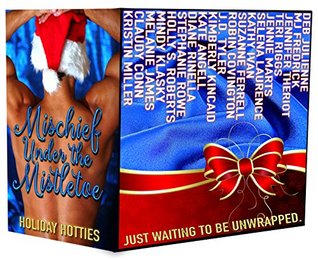 Classificação:
2
-------------------------------------------------------------------
Este livro conta para o Desafio
TBR Pile 2016
.
Classificação natalícia: