Este Verão o blogue andou um bocado desprezado e acabei por nem sequer destacar as novidades que mais me agradaram... Como mais vale tarde do que nunca, resolvi colocá-las agora aqui na mesma e começo pelas novidades internacionais de Julho: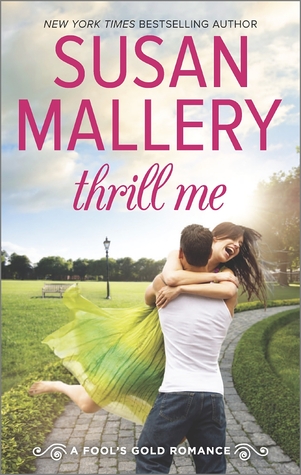 Thrill Me
Susan Mallery
Harlequin
368 pp.
Publicado a 28 de Julho
Meet the Mitchell brothers of Fool's Gold, California—five gorgeous men who've left a trail of broken hearts in their wake…

Maya Farlow learned the hard way to depend only on herself, so when she fell too deeply for the bad-boy charms of Del Mitchell, she did the only thing she could—she ran. Stunned, Del left Fool's Gold to make his name and fortune in extreme sports.

Now ten years later, Maya's been hired to promote her hometown's new slogan, The Destination for Romance. The celebrity spokesman is none other than Del, the man she dumped but never forgot. Awkward!

Although Del's not the type to hold a grudge, he's determined to avoid falling a second time for the woman who broke his heart. He's a daredevil, not an idiot. Trouble is, in all his adventures, he never found a rush as exhilarating as Maya's kiss. Maybe risking his heart will prove to be the biggest thrill of all…
Se já achava que estava a ficar atrasada com esta série no mês passado, que dizer agora?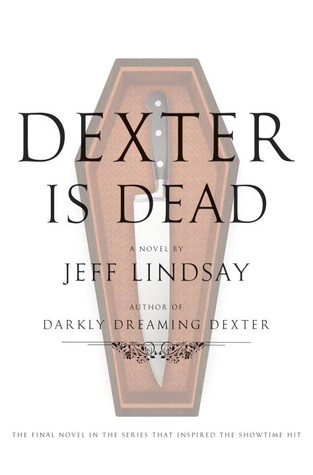 Dexter is Dead
Jeff Lindsay
Doubleday
304 pp.
Publicado a 7 de Julho
After seven national bestsellers and eight seasons as one of the most successful shows on television, New York Times bestselling author Jeff Lindsay bids a thrilling farewell to his uniquely twisted and beloved serial killer, Dexter Morgan. Dexter Is Dead is the definitive conclusion of the character who has become a global icon.
Dexter Morgan has burned the candle at both ends for many years. Blood spatter analyst . . . husband . . . father . . . serial killer. And now, for the first time, his world has truly collapsed. Dexter is arrested on charges of murder. He has lost everything—including his wife, his kids, and the loyalty of his sister. Now completely alone, Dexter faces a murder charge (for a crime . . . ironically . . . he did not actually commit). His only chance for freedom lies with his brother, Brian, who has a dark plan to prove Dexter's innocence. But the stakes are deadly, and the epic showdown that lies in Dexter's path may lead, once and for all, to his demise.
Jeff Lindsay's trademark devilish wit and cutting satire have never been sharper. Dexter Is Dead marks the end of a beloved series, but is also Dexter's most satisfying and suspenseful outing yet.
O último livro da série. Provavelmente vou começar a ler os outros dois que me faltam enquanto espero pela saída deste em capa mole...
Heather Graham
Mira
352 pp.
Publicado a 28 de Julho

Murdered by a dead man?

A woman named Maria Gomez is murdered in Miami, apparently by her husband—who'd been presumed dead, slain by a crime boss. FBI agent Brett Cody can't believe it; dead or alive, the man had loved his wife. He also can't help feeling guilty, since he was responsible for protecting Miguel and Maria Gomez.

A few miles away, Lara Mayhew has just begun working at a dolphin research facility. She loves her new job—until a dolphin brings her something unexpected from the deep. A human hand. More body parts show up, and when Brett looks into the situation, he discovers that the dismembered corpse is Miguel's.

Soon, rumors of crazed zombies abound in the Miami media, and the Krewe of Hunters, an elite FBI unit of paranormal investigators, is called in. Brett and Lara find themselves working with the Krewe—and working closely together. An elderly crime boss who's losing his memory seems to be key to solving this case, but…there's no motive. Unless Brett and Lara can uncover one in the Miami underworld. And that means they have to protect themselves. And each other.

Mais uma série que tenho dificuldade em acompanhar...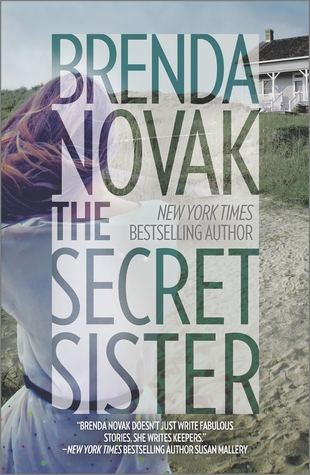 The Secret Sister
Brenda Novak
Mira
400 pp.
Publicado a 28 de Julho
Did she once have a sister? Has her mother lied all these years? Why?

After a painful divorce, Maisey Lazarow returns to Fairham, the small island off the North Carolina coast where she grew up. She goes there to heal—and to help her brother, Keith, a deeply troubled man who's asked her to come home. But she refuses to stay in the family house. The last person she wants to see is the wealthy, controlling mother she escaped years ago.

Instead, she finds herself living next door to someone else she'd prefer to avoid—Rafe Romero, the wild, reckless boy to whom she lost her virginity at sixteen. He's back on the island, and to her surprise, he's raising a young daughter alone. Maisey's still attracted to him, but her heart's too broken to risk…

Then something even more disturbing happens. She discovers a box of photographs that evoke distant memories of a little girl, a child Keith remembers, too. Maisey believes the girl must've been their sister, but their mother claims there was no sister.

Maisey's convinced that child existed. So where is she now?
Gosto muito da série Whiskey Creek e esta nova série da autora também me parece muito interessante...
The Last Summer at Chelsea Beach
Pam Jenoff
Mira
384
pp.
Publicado a 28 de Julho
Summer 1941

Young Adelia Monteforte flees fascist Italy for America, where she is whisked away to the shore by her well-meaning aunt and uncle. Here, she meets and falls for Charlie Connally, the eldest of the four Irish-Catholic boys next door. But all hopes for a future together are soon throttled by the war and a tragedy that hits much closer to home.

Grief-stricken, Addie flees—first to Washington and then to war-torn London—and finds a position at a prestigious newspaper, as well as a chance to redeem lost time, lost family…and lost love. But the past always nips at her heels, demanding to be reckoned with. And in a final, fateful choice, Addie discovers that the way home may be a path she never suspected.
Li um livro desta autora este ano e fiquei curiosa com este também...
Bad News Cowboy
Maisey Yates
Mira
384 pp.
Publicado a 28 de Julho
Can the bad boy of Copper Ridge, Oregon, make good—and win the rodeo girl of his dreams?

Kate Garrett keeps life simple—working hard, riding her beloved horses, playing cards with her brothers. Lately, though, she feels a bit restless, especially when family friend Jack Monaghan is around. Sexy and shameless, Jack is the kind of trouble you don't tangle with unless you want your heart broken. Still, Kate could always use his help in learning how to lasso someone a little less high-risk…

Jack can't pinpoint the moment the Garrett brothers' little sister suddenly stopped seeming so…little. Now here he is, giving flirting tips to the one woman who needs zero help turning him on. Love's a game he's never wanted to play. But he'll have to hurry up and learn how before the best thing that ever entered his life rides right back out again…
Infelizmente não consigo ler todos os livros que gostava e esta foi uma série que teve de ficar para trás...
Even the Score
Kate Meader
Entangled: Brazen
253
pp.
Publicado a 21 de Julho
He'll make her an offer she can't refuse…

Actress Tess McKenzie is performing in the Tenth Circle of Showbiz Hell—dinner theater. All she really wants is to start a theater of her own. Then Tess receives an offer she can't refuse. She'll get her funding…if she pretends to be the fiancée to her nemesis, Texan property tycoon Hunter Dade. If she's going to pull this off, she'll need all the luck she can get. Break a leg, indeed.

On the verge of a big business deal, Hunter needs to hire a fiancée. He hasn't quite forgiven Tess for ruining his wedding, but when their chemistry goes from combative to straight-up lust, the "no sex" clause in their mutually beneficial arrangement is tested. Which is a serious problem, because if Tess isn't careful, she'll go from breaking a leg to breaking her heart…
Gostei muito dos dois livros da autora que li e este também me parece que seria do meu agrado...
Sweet the Sin
Claire Kent
Loveswept
184 pp.
Publicado a 7 de Julho
In the first novel in USA Today bestselling author Claire Kent's deeply sensual story of love, lust, and deception, a woman searching for the truth discovers that she's sleeping with the enemy.

Portrait artist Kelly Watson keeps her relationships simple and steamy, with no strings attached. She's had a hard time trusting other people since she was a child, when her father was murdered for trying to blow the whistle on corporate corruption. Nearly twenty years later, Kelly finds herself in the arms of a seductive stranger—the very same man who may have ordered her father's death. And even as she plays him, using hot sex as a means to revenge, Kelly is tormented by one question: Is she committing the ultimate betrayal?

Caleb Marshall has spent decades forging a high-powered career, rejecting intimacy for the convenience of fast women and cheap thrills. But Kelly intrigues him, pushing commitment buttons he didn't know he had. Still, something is wrong. Despite their physical and emotional chemistry, Caleb feels the fear inside of her. Now the only way to keep her safe is coming clean, before secrets and lies destroy their connection—no matter how deep, intense, and addictive it may be.

Sweet the Sin is intended for mature audiences. Includes a special message from the editor, as well as an excerpt from another Loveswept title.
Esta autora foi uma agradável surpresa, pois comecei a ler o Escorted (que tinha conseguido gratuito na Amazon) sem quaisquer expectativas e OMD, gostei tanto! Parece-me que também sou capaz de gostar deste...
Romancing the Alpha: An Action-Adventure Romance Boxed Set
Vários Autores
Beaverstone Press LLC
Publicado a 7 de Julho
HOT NEW adventure romance super bundle. Spice up your summer with 10 never-before-published action-adventure romance stories by bestselling authors. Kick butt and fall in love with sexy Navy SEALs, treasure hunters, mercenaries, and more. Let the adrenaline flow!

Zoe York — FALL BACK
When Navy SEAL Cade Duncan partners up with Mel Vincent for an endurance race, he doesn't expect to tumble into a romantic fling in paradise—or to be so pissed with the beautiful woman when he finds out she's been keeping secrets.

Ruby Lionsdrake — THE PIRATE CAPTAIN'S DAUGHTER
When firefighter and mercenary Marat Azarov rescues a beautiful slave woman from a life of certain torment, he gets more than he bargained for.

Zara Keane — HER TREASURE HUNTER EX
When underwater photographer Katy Ryan embarks on a secret mission to salvage priceless jewels from the wreck of the RMS Lusitania, she's pissed as hell to be be pitted against Dex Fitzgerald, her super sexy treasure hunter ex.

Anna Hackett — AMONG GALACTIC RUINS
When astro-archeologist Lexa Carter discovers a map to an old Earth treasure, she's thrilled about a treasure hunt to a dangerous, desert planet—but not about being saddled with head of security, Damon Malik. She thinks he's arrogant. He thinks she's a trouble magnet. But when the hunt turns deadly, they'll have to trust each other just to survive.

Ember Casey — THE DEVIL'S SET: JACKSON
Charlotte knows she's in trouble the moment Jackson North shows up at her door in the middle of the night. She always suspected her ex had secrets, but she never thought those secrets would lead her on a wild treasure hunt through Croatia's islands—or throw her back into the arms of the dangerous man who once broke her heart.

Anna Lowe — UNCHARTED
The last thing archaeologist Julie Steffens needs is a gang of armed mercenaries after her for a crime she didn't commit. And the last rescuer she wants is Seth Cooper, the sizzling vacation fling who disappeared from her bedside two months before. But right now, she needs a way out — and Seth's sailboat is it.

Sadie Haller — TAINTED PEARL
The last person Biddy expects to greet her at the start of her secret four-week eco-activism island adventure is a red-blooded alpha male, and the irresistible camera operator proves to be a big, bad complication she's unable to resist.

Lyn Brittan — THE DUKE OF AMBRA
When treasure hunter Kent Avery ends up partnered with Swedish military officer Elena Haaland in search of a stolen Russian artifact, he's not expecting love. Guns? Sure. Fist fights? No problem. But love? Well that's the one danger he's just not prepared for.

Lydia Rowan — ULTIMATE ESCAPE
A bad breakup sent Nola Bailey to Vietnam. Instead of cold cocktails and sandy beaches, she finds the irresistible Duarte Cruz and trouble. Cruz thinks she's up to no good, but if she convinces him she's not—and dodges the flying bullets—her ultimate escape could end with love.

Leigh James — COVER ME
Matthew Riley is determined to leave his dangerous mercenary lifestyle behind. But when he takes what's supposed to be a relaxing vacation to the Yucutan Peninsula with his wife Meredith and their friends, he discovers that he can't afford to leave his job behind, in more ways than one...
Parece-me um boa antologia e uma boa forma de descobrir novas autoras...
The Last Embrace
Pam Jenoff
Mira
384 pp.
Publicado a 30 de Julho
Forbidden love in the time of war, this is essential reading for fans of emotional historical romance, perfect for fans of Katie Flynn and Maureen Lee.

August 1940 and 16-year-old refugee Addie escapes Fascist Italy to live with her aunt and uncle in Atlantic City. As WW2 breaks, she finds acceptance and love with Charlie Connelly and his family.

But war changes everything: secrets and passions abound, and when one brother's destructive choices lead to the tragic death of another, the Connelly family is decimated, and Addie along with them.

Now 18, she flees, first to Washington and then to war-torn London where she is swept up with life as a correspondent. But when Charlie, now a paratrooper, re-appears, Addie discovers that the past is impossible to outrun. Now she must make one last desperate attempt to find within herself the answers that will lead the way home.
Não percebo muito bem qual é a lógica de editar dois livros diferentes da mesma autora no mesmo mês, mas aconteceu.
The Blue
Lucy Clarke
Touchstone
320
pp.
Publicado a 7 de Julho
In the tradition of Alex Garland's The Beach, a spine-tingling adventure novel about a group of friends whose journey around the world on a yacht turns from a trip to paradise into a chilling nightmare when one of them disappears at sea.

A group of friends.
A yacht.
And a disappearance-at-sea that turns paradise into a chilling nightmare.

Lana and her best friend Kitty leave home looking for freedom—and that's exactly what they find when they are invited onto The Blue, a fifty-foot yacht making its way from the Philippines to New Zealand. The crew is made up of a group of young travellers bitten by wanderlust, and it doesn't take long for Lana and Kitty's dream of sea-bound romance to turn into reality.

Both women fall under the hypnotic spell of The Blue, spending their days exploring remote islands and their rum-filled nights relaxing on deck beneath the stars. But when one of their friends disappears overboard after an argument with another crewmember, the dark secrets that brought each of them aboard start to unravel.

At turns gorgeously scenic and entirely haunting, The Blue is a page-turning thriller about friendship, freedom and wanting to leave the past behind.
Depois de ler The Sea Sisters fiquei com vontade de ler mais desta autora...
The Secret Love of a Gentleman
Jane Lark
HarperImpulse
336 pp.
Publicado a 23 de Julho
Inferior and seduction are bitter tasting words...

How could Caro love and hate the same man? How could she be foolish enough to harbour that love for years; to hide herself away from the world because of her embarrassment over her failure to be loved in return? Because she is a fool... Yet Rob Marlow sees not that but courage in her, and this beautiful young man, who gives her back the strength she's lost is someone she longs to cling to for the physical comfort she has missed since the end of her marriage.

Integrity, idealism and honour are at the heart of Rob Marlow, and yet he knows that perhaps pride is his weakness, but he thought it his only possible weakness until he spends a summer with his sister and discovers a new addiction, Caro, his brother-in-law's dependent sister.
Estou a gostar de seguir esta série, embora esteja a ficar um bocado para trás...
Warrior of Ice
Michelle Willingham
Harlequin
288
pp.
Publicado a 1 de Julho
Locked in a deadly game!

Physically and emotionally scarred, Lady Taryn knows no man would want her for a wife. Nonetheless, she's determined to free her father from his merciless overlord and enlists powerful warrior Killian MacDubh to help.

He has his own motives for confronting the High King...

Born a bastard, Killian longs to carve out a place for himself. Unaware of her true beauty, Taryn is an alluring distraction to his plan, but as traitors are revealed and loyalties tested, their forbidden love becomes the only thing worth fighting for!
Mais uma nova série que, infelizmente, vai ficar por ler...