E aqui ficam as novidades internacionais de Janeiro que me despertaram a atenção: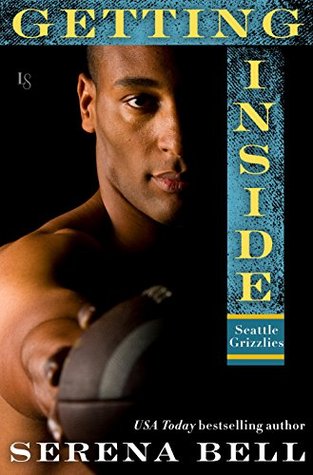 Getting Inside
Seattle Grizzlies #1
Serena Bell
Loveswept
198 pp.
Publicado a 1 de Janeiro
They're big. They're hot. And they play hard.

In the kickoff to Serena Bell's sexy new football romance series, the heat between a female coach and a cocky linebacker turns the Seattle Grizzlies locker room upside down.
Iona:
There's nothing like the rush of going head-to-head with the boys. Football is my life, and I got my new job with the Seattle Grizzlies because I know how to play rough. But as a woman in a man's game, I can't afford any distractions—like panty-melting tabloid darling Ty Williams, my star linebacker. I've stared down plenty of good-looking players without losing my cool . . . and yet something about Ty's intense gaze burns straight to my core.
Ty:
Despite what they say in the press, I save my best moves for game day. The Grizzlies aren't just my teammates, they're my brothers—no way am I going to let some new coach shake up our defense. But Iona Thomas isn't just some coach. It's so tough to keep my head in the game when I'd rather be in bed with her. She may take charge at practice, but if I had her in my arms, I'd be choosing the plays. I just need to figure out what makes her tick—and what makes her want to break the rules.
Getting Inside is a short novel about going long. Includes an excerpt from another Loveswept title!
Desta autora ainda só li um conto natalício, mas fiquei com vontade de ler mais. E esta série parece ser gira.
Bound by the SEAL
ASSIGNMENT: Caribbean Nights #5
Zoe York
Publicado a 17 de Janeiro
Sometimes enemies make really fun bedmates…
Navy SEAL Brayden Lucas assumes that when he detains a burglar at the Caribbean plantation he's house-sitting, it'll be a straightforward matter of figuring out who the would-be thief is and turning her in to the authorities if need be.
That was before he tied her up, and they started talking.
But the truth is there's nothing straightforward about Arielle Day. Not the way she lights him up inside, or the secrets she's obviously keeping.
And nothing is going to stop Brayden from exploring the explosive chemistry between them…
Tenho mesmo de começar a ler esta série...
Law and Disorder
The Finnegan Connection #1
Heather Graham
Harlequin Intrigue
256 pp.
Publicado a 17 de Janeiro
Trust the enemy?
Desperate to escape her kidnappers, Kody Cameron can turn to only one man—and he's holding a gun. Outnumbered and trapped in the deadly Everglades, she has little recourse, but something in this captor's eyes makes her believe she can trust him. Does she dare to take the risk?
Undercover agent Nick Connolly has met Kody before and knows she might very well blow his cover. Though determined to maintain his facade, he can't let Kody die. He won't. And his decision to change his own rules of law and order are about to make all hell break loose.
Uma nova série da autora. E eu ainda tenho outras duas dela para terminar...
Flawed
Ethan Frost #4
Tracy Wolff
Loveswept
255 pp.
Publicado a 17 de Janeiro
The bestselling Ethan Frost series introduces a tantalizing new hero—and the broken woman only he can save. Discover why Beth Kery once declared that readers of Tracy Wolff will "fall in love under the spell of a master."
When Tori Reed loses everything, he sets her free.
I told myself I'd never trust Miles Girard, no matter how brilliant or sexy he may be. His sister, Chloe—Ethan Frost's wife—is my best friend, but I know just how low Miles will stoop to get what he wants. Now he's the last thing I want: my boss.
Growing up, I had it all—except for the sense that I belonged. And when a mistake from my past surfaces in the press, my parents don't hesitate to cut me off.
But surprisingly, Miles offers me a helping hand.
Before I know it, our relationship turns unprofessional in the hottest ways. Of course, he still drives me crazy. But when I'm dealt the ultimate blow, Miles is there for me. And maybe he's the one I've been looking for all along.
Li esta autora pela primeira vez no ano passado e fiquei com vontade de ler mais. Este já é o quarto livro de uma série, por isso provavelmente não o vou ler tão depressa, mas fica debaixo de olho.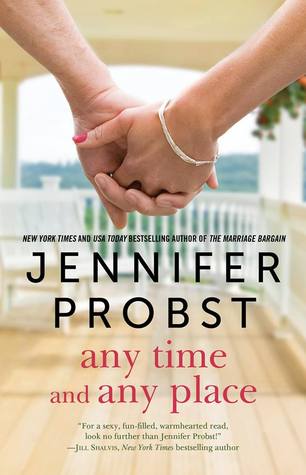 Any Time, Any Place
Billionaire Builders #2
Jennifer Probst
Gallery Books
400 pp.
Publicado a 24 de Janeiro
HGTV's
Property Brothers
meets
The Marriage Bargain
in this second volume in the Billionaire Builders series, an all-new heart-wrenching and sexy contemporary romance from
New York Times
bestselling author Jennifer Probst.
When she was a teen, Raven Bella Stratton's father was killed in a horrible car crash. The bigger shock was the discovery of a woman with him—Diana Pierce—and their two fully packed suitcases with airline tickets to Paris. Devastated by her father's betrayal, Raven went to live with her aunt, never truly overcoming the traumatic event. When she discovers that the mysterious woman had a family with a husband and three boys, Raven vows to leave the memory of her father behind.
Until Dalton Pierce visits one night and suddenly her past challenges her future...
Leaving his life in California behind to run Pierce Construction with his two older brothers, Dalton Pierce has enjoyed returning home and studying his passion of woodworking. But when he visits the local bar with his brothers one evening, he's immediately drawn to the smart-mouthed, badass, sexy bartender who sets his body on fire. Unfortunately, she doesn't seem as intrigued by him, and his multiple advances are met with rejection. When he offers to restore the bar back to its original glory, he begins to work with her on a daily basis, and falls harder. His plan of seduction slowly weaves a web around them both, until they are caught up in the spell. But Dalton doesn't know the secret that can either destroy them both...or finally mend two broken hearts.
Mais uma série que ainda não comecei...
Seven Minutes in Heaven
Desperate Duchesses by the Numbers #3
Eloisa James
Avon
384 pp.
Publicado a 31 de Janeiro
All of Eugenia Snowe's problems start when Edward Reeve, an arrogant bastard son of an earl, bursts into her registry office. He wants a governess and he wants her. She gives him the governess he demands, but she refuses to give herself.
No question that Eugenia enjoys crossing wits with the brilliant inventor, but she will never tarnish her reputation with an affaire, particularly with a man who doesn't realize she's a lady!
She holds her ground…until he kidnaps her.
Ward will stop at nothing to convince Eugenia that they're meant to be together. He promises her heaven.
She gives him seven minutes.
Argh, nunca vou ter tempo para ler todos os livros que quero ler...
Jacked Up
Birmingham Rebels #3
Samantha Kane
Loveswept
Publicado a 31 de Janeiro
The secret about the Birmingham Rebels is out: With a girl in the middle, two mouth-watering football studs are better than one.
Linebacker Sam Taylor feels like a ticking time bomb. He left the army with emotional wounds as fresh as the scars on his back. Sam's been living like a monk, but his best friend, defensive lineman King Ulupoka, wants to get him laid. Easy for him to say. The larger-than-life Samoan is a hard-bodied, tribal-tattooed fantasy. Sam agrees, under one condition: King stays to watch.
ER nurse Jane Foster is done being a good girl, and nothing says wild like picking up two of football's sexiest players and bringing them back to your hotel room. Trouble is, she can't decide which one she wants more. Sam is hot, sweet, and vulnerable. Jane's more than willing to ride him into oblivion. But King's intense gaze from across the room promises that the best is yet to come.
Sure, King has had his choice of girls and guys in the past. That doesn't mean he'll jeopardize his relationship with Sam over a case of locker-room lust—until a naughty nurse pushes them both out of their comfort zones. Seeing Jane and Sam together turns King on more than he ever imagined. If they're game, he's ready to tackle a three-way play.
Li uma série histórica da autora e gostei bastante. Gostava de a experimentar num registo contemporâneo.