Autor: Kate Angell
Editor: Kate Angell
Edição/reimpressão: Dezembro de 2015
ASIN: B018UML27E
Páginas: 61
Sinopse:
A Vermont Christmas Eve blizzard forces Allie to close Hartley's General Store. Her best friend Rhys arrives by snowmobile, not wanting her to endure the snowstorm alone. A playful kiss under the mistletoe warms more than their hearts.
A minha opinião:
Allie Hartley e Rhys Forester são melhores amigos. Por isso, quando Allie fica "presa" na loja que gere e onde vive, Rhys não consegue deixar de pegar na
moto de neve e
ir ver como ela está. A amizade deles sempre foi forte, até ao dia 10 de Dezembro, quando ela caiu da escada quando estava a pendurar decorações e ele a agarrou. E perceberam que estavam debaixo do azevinho. E o que começou como o cumprir de uma tradição tornou-se muito mais... E deixou as coisas estranhas entre eles.
É evidente que ambos sentem mais do que amizade, mas estarão preparados para arriscar? E se não resultar e deixarem de ser amigos? E agora estão os dois sozinhos, presos na casa dela, sem energia, na véspera de Natal, e novamente debaixo do azevinho...
Snow One Like You é tão fofinho! Gosto muito de histórias de melhores amigos que se apaixonam e quando acontece num cenário natalício e em que estão "presos" juntos, melhor ainda!
Snow One Like You é mais uma das novelas incluída na antologia de novelas Mischief Under the Mistletoe.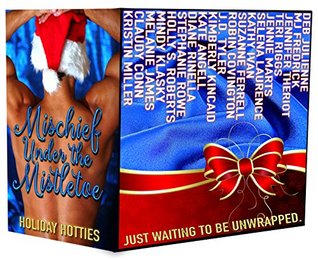 Classificação:
4
-------------------------------------------------------------------