Autor:
Holly S. Roberts
Série:
Completion #4.5
Editor:
Four Carat Press
Edição/reimpressão:
Dezembro de 2015
ASIN:
B018ZLW0BC
Páginas:
146
Sinopse: Van, one of the best players in rugby and the hottest player between the sheets is looking for a miracle. His brother won the girl and Van's heart is broken. Could the gift of a lifetime be his for the taking or will this bad boy ruck it up again?

Contains steamy scenes and more balls than a girl knows what to do with.

A minha opinião: Apesar de ser uma história independente, o protagonista de Ruck já foi personagem secundária noutro livro da série. E, portanto, esta história acaba por ser a continuação desse livro.
Van Stelson está apaixonado pela cunhada. E o pior é que ele até teve uma chance com ela primeiro e desperdiçou-a... Não pode realmente culpar o irmão por ter sido mais esperto do que ele, pois não? Para além do mais eles são tão felizes juntos que a única hipótese que Van tem é aguentar.
Danielle Brighton é a única amiga mulher de Van. E talvez isso seja porque ele a vê como outro dos rapazes. Afinal, Danny é uma maria-rapaz, sempre de calças, sempre com o cabelo apanhado num rabo-de-cavalo e que partilha a paixão de Van pelo rugby, que joga numa equipa feminina. É exactamente o oposto do tipo de mulher que atrai Van. Então porque raio é que, de repente, ele se sente tão atraído por ela?
Ela não o leva a sério, mas ele está determinado em convencê-la a dar-lhe uma hipótese. Mas será a recompensa suficiente para compensar o risco? Afinal, se as coisas derem para o torto, também a amizade será perdida.
Gostei deste conto. Foi giro ver o Van a acordar de repente e perceber que aquilo que sempre quis tem estado debaixo do nariz dele esse tempo todo. A Danny também é muito fixe, e é uma personagem muito credível. Gostei muito deles como casal. Não me importava de ler a história do irmão do Van...
Ruck
é mais uma das novelas incluída na antologia de novelas
Mischief Under the Mistletoe
.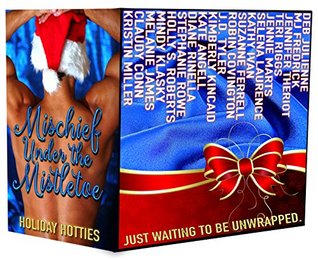 Classificação:
4
-------------------------------------------------------------------