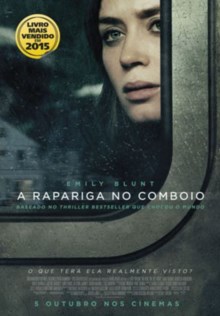 Título:
A Rapariga no Comboio
Título original: The Girl on the Train
Adaptado de:
A Rapariga no Comboio, de
Paula Hawkins
(opinião
aqui
)
Ano: 2016
Realizador: Tate Taylor
Argumento:
Erin Cressida Wilson
Actores principais: Emily Blunt, Haley Bennett e Rebecca Ferguson
Opinião: Bastou-me ver que tinham escolhido a Emily Blunt para o papel da Rachel para perceber que a adaptação não ia ser muito fiel ao livro. Não é. Também não é das piores, mas perdeu-se qualquer coisa na adaptação.

Devo começar por dizer que gosto muito da Emily Blunt e ela está bastante bem, mas a verdade é que mesmo nos seus piores momentos, esta Rachel é sempre extremamente atraente e não era suposto. O resto do casting está bastante bem.

A história, em geral, é fiel ao material original, mas ao não utilizar a perspectiva das três narradoras, perde-se o espírito que me fez gostar tanto do livro. Há alguns pormenores diferentes que não percebi porque foram mudados, mas que também não são assim tão graves.

No geral, é um bom filme e acredito que quem o veja sem ter lido o livro vá gostar mais.


Classificação: 3
Trailer: