Autor:
Kristin Miller
Série:
Kiss County Bachelors
Editor:
Black Oak Press Inc
Edição/reimpressão:
Dezembro de 2015
ASIN:
B015BUC2VS
Páginas:
28
Sinopse:
When lingerie-store owner Cora Brennan plans a getaway at a quaint mountain retreat, she never expects her cabin neighbor to be the playboy she spent a memorable night with in college. Desire blazes into something deeper this time, but she's still healing from a bad breakup and he's already set-up a first date with someone else. Can they finally admit their true feelings for each other before love is lost to them again?
A minha opinião:
Cora Brennan acabou de descobrir que o seu namorado afinal tem uma outra namorada. E resolve ir passar o fim de semana de Natal com as suas melhores amigas ao retiro de montanha onde já passou as férias há sete anos e do qual tem as melhores recordações sobretudo devido ao facto de ter passado essas férias nos braços de Alec Covington. E qual não é o seu espanto quando percebe que o jeitoso que está a cortar lenha na cabana ao lado da sua é o próprio do Alec...
O Alec nunca esqueceu a mulher com quem passou aquele fim de semana e que desapareceu sem sequer se despedir, e há sete anos que regressa ao retiro no fim de semana de Natal na esperança de que ela também regresse. E agora, finalmente, ela voltou! E ele não quer perder esta segunda hipótese de lhe provar que não é o playboy milionário que a imprensa divulga, e que acredita que eles têm todas as hipóteses de resultar, desde que ela lhes dê uma chance.
E essa hipótese surge quando ficam retidos por uma tempestade de neve e as amigas da Cora não conseguem fazer a viagem. Mas a mulher que a imprensa tem divulgado como sendo a mais nova conquista de Alec convidou-se para ir ter com ele ao retiro para afinarem os detalhes de um negócio e conseguirá ele explicar a sua presença a Cora caso ela lá chegue?
Gostei bastante desta novela. O Alec é um fofo, completamente apaixonado pela Cora desde que a conheceu há sete anos, mas recusando-se a persegui-la, preferindo deixar que seja o destino a decidir se se voltam a encontrar ou não. E a Cora também me pareceu uma personagem real que, julgando impossível continuar fora do retiro aquilo que tinham começado nele, preferiu partir sem despedidas nem falsas promessas. Foi muito giro acompanhá-los à medida que se vão reconectando.
Esta história faz parte de uma antologia de novelas de Natal de diferentes autoras, intitulada
Mischief Under the Mistletoe
, que estou a ler aos poucos.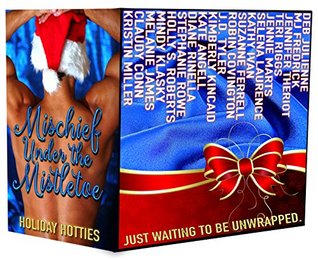 Classificação:
4
-------------------------------------------------------------------
Classificação natalícia: