E aqui ficam as novidades internacionais de Novembro que mais me despertaram a atenção:
Chance of a Lifetime
Marissa Clarke
Entangled: Lovestruck
220 pp.
Publicado a 16 de Novembro
Sometimes the biggest risk is playing it safe…

Gen Richards is tired of living down to her family's expectation of the helpless blind girl. Resurrecting her high-school bucket list that begins with "kiss a total stranger" seems just the thing until she finds herself in a panty-melting lip lock with her big brother's best friend.

Chance Anderson thrives on adrenaline, but Genny's the one risk he's not willing to take. His recklessness a decade ago landed her in the hospital and ejected him from her life. He's bad for her and everyone knows it—especially her big brother.

Chance reluctantly helps Gen complete her bucket list in order to keep her out of trouble. Running through a freezing fountain, playing Spin the Bottle while fending off a mad horde of stinging insects, and skinny dipping with homicidal attack swans don't hold a candle to the real danger: falling for the one person he can never have.
Já o li e é uma fantástica conclusão para uma série fenomenal.
Hidden Impact
Piper J. Drake
Carina Press
213 pp.
Publicado a 9 de Novembro

He's not the hero she's looking for...

As part of the elite Centurion Corporation team, military-veteran-turned-mercenary Gabriel Diaz is a natural defender. He'll do anything to ensure a mission is successful. Anything but get emotionally invested—he learned the hard way that can be deadly. Easy bodyguard jobs in between the more challenging missions are all he's interested in now.

Maylin Cheng is desperate and running out of time. Her younger sister has gone missing but no one seems to take her concern seriously. Her last hope lies in asking an aloof bodyguard for help. He dismisses her outright, but all that changes when she is almost killed in a not-so-accidental hit-and-run right before his eyes.

As Maylin leans on Gabriel, she begins to rely on him for more than just her safety. But as their attraction grows, so does the danger surrounding them. When the elaborate web they're trapped in unravels, Gabriel will do anything to protect them. Even if that means putting his heart in the crosshairs.

Book one of the Safeguard series
Também já o li e vou ficar atenta aos próximos livros da série
Rekindle the Flame
Kate Meader
Pocket Star
129 pp.
Publicado a 30 de Novembro
Cuddle up by the fire with the irresistible prequel to Kate Meader's smokin' Hot in Chicago series—originally published in the sizzling holiday anthology Baby, It's Cold Outside—a superhot e-novella that will warm you from your head to your heart and all the way to your toes!

Chicago firefighter Beck Rivera always knew his destiny would be defined by two things: his dream to follow in the footsteps of his legendary foster father Sean Dempsey and his teenage passion for heiress Darcy Cochrane, the one girl who could both stoke and cool his fire. Loving her meant setting her free and breaking her heart—and his. But when a chance reunion at his family's bar, sparked by a drunk Santa, places her in his path again, destiny can no longer be denied.

The last thing heiress-turned-tattoo-artist Darcy Cochrane needs is the rollercoaster of emotion stirred up by her first love: sexy, gorgeous man-on-fire Beck Rivera. But he always had such talented hands. And more talented lips. And...maybe one time can't hurt. Then she'll send him packing like he did to her all those years ago. But Darcy and Beck soon discover that nothing ignites holiday flames like rekindling a lost love...
Mais uma série que ainda não comecei...
Highland Heat
Jennifer Haymore
Loveswept
247 pp.
Publicado a 24 de Novembro
Perfect for readers of Maya Banks and Monica McCarty, Jennifer Haymore's seductive new Highland Knights series begins with an electrifying tale of class warfare, fierce loyalties, and forbidden love.

With blood still drying on the front lines at Waterloo, Lady Grace Carrington helps an injured soldier to a British medical tent. Though she believes she's pulled him to safety, in fact she has put them both in grave danger: Because when his brilliant blue eyes meet hers, the passionate Scottish sergeant kisses her in a way that leaves her breathless and trembling. As the obedient daughter of an earl, Grace shouldn't be tempted by someone so far below her station. But as a red-blooded woman, she longs for so much more.

As far as Duncan Mackenzie is concerned, getting stabbed in the arm was the best thing that ever happened to him. When he wakes on the battlefield, the sight of Grace's lovely face sets his soul aflame. As an enlisted man and a farmer's son, however, pursuing his guardian angel means facing the wrath of London society, not to mention his own superiors in the British Army. Aye, but he'd risk all that and more just to keep her in his arms.
Uma nova série de uma autora de quem gosto bastante. Já o tenho para ler.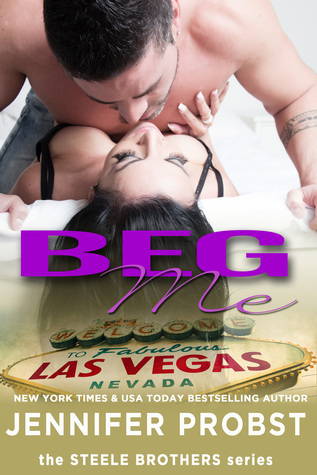 Beg Me
Jennifer Probst
Cool Gus Publishing
93 pp.
Publicado a 17 de Novembro
Remington Steele comes to Vegas to be with his brothers and try to get over the one woman he's never been able to forget. As childhood sweethearts, she hadn't been able to handle his Dominant tendencies, choosing to run away without a good-bye. But when he's suddenly face to face with Cara Winters, all grown up and finally ready to be his, Remington needs to make his own choice. To leave the past behind forever, or forgive and be with the woman he's always loved?

Cara wasn't ready to be the type of woman Remington needed in his life, so she disappeared and broke his heart. But she's changed, and is ready to embrace the woman she always craved to be. She begs him to take her for one night, and Remington finally agrees. Will they get a second chance at love, or are the scars from their past too deep to heal?
Searching for You
Jennifer Probst
Pocket Star
Publicado a 30 de Novembro
When a high-powered CEO and a playboy billionaire get stranded in a snowstorm, sparks will fly…if they can make it through the night together! This sexy enovella from Jennifer Probst's heartwarming Searching For series—originally published in the sizzling anthology Baby, It's Cold Outside—depicts an encounter almost too hot to handle.

Successful and determined executive Riley Fox has everything a modern woman could want…except for the love of her life. But she didn't get to the top of her field without setting stringent expectations, and when it comes to finding a partner, she's leaving nothing up to chance. Until her car breaks down in a blizzard, trapping her with the one man she's always loathed and secretly crushed on: wealthy womanizer Dylan McCray.

Tired of his reputation as a ladies' man, Dylan longs for a serious relationship with the woman of his dreams. Countless casual dates and hook-ups have left him with no idea what that gut-clenching moment of rightness feels like…until he rescues the stunning woman who has always tempted his fantasies. Will these staunch opposites repel rather than attract, or will sunrise bring everlasting romance after a steamy night in the snowy mountains?
Mais duas novidades duma autora que descobri este ano e da qual fiquei fã!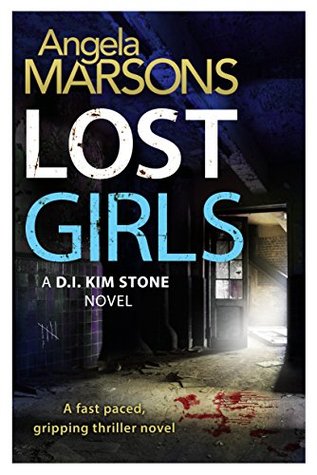 Lost Girls
Angela Marsons
Bookouture
425 pp.
Publicado a 6 de Novembro
Two girls go missing. Only one will return.

The couple that offers the highest amount will see their daughter again. The losing couple will not. Make no mistake. One child will die.

When nine-year-old best friends Charlie and Amy disappear, two families are plunged into a living nightmare. A text message confirms the unthinkable; that the girls are the victims of a terrifying kidnapping.

And when a second text message pits the two families against each other for the life of their children, the clock starts ticking for D.I. Kim Stone and the squad.

Seemingly outwitted at every turn, as they uncover a trail of bodies, Stone realises that these ruthless killers might be the most deadly she has ever faced. And that their chances of bringing the girls home alive, are getting smaller by the hour…

Untangling a dark web of secrets from the families' past might hold the key to solving this case. But can Kim stay alive long enough to do so? Or will someone's child pay the ultimate price?

The latest utterly addictive thriller from the No.1 bestseller Angela Marsons.
Li o primeiro da série e já estou a ficar atrasada...
Love on a Summer Night
Zoe York
ZoYo Press
250 pp.
Publicado a 24 de Novembro
Zander Minelli has six months left in his Army career, and then he's coming home to Pine Harbour for good. But first he needs to figure out what he's going to do with the rest of his life--after he spends a good long while kicking back and enjoying his freedom.

Widowed single mother Faith Davidson is ready to start dating again. But only someone solid, with a job and a pension and absolutely no tattoos. Definitely not someone who's only in town for a week, whose extended life plans include riding his motorcycle across the country and sleeping until noon.
Afinal a publicação foi adiada para este mês...
Denial
Lisa Renee Jones
Gallery Books
336 pp.
Publicado a 24 de Novembro
Book one in the CARELESS WHISPERS series. This is a standalone spin-off of the INSIDE OUT series (soon to be a TV show) that follows Ella Ferguson, Sara McMillan's best friend.

Ella Ferguson awakes alone in Italy, unsure of who she is, and a gorgeous man has claimed her as his own. He's tall, dark, and sexy, with money and power, the kind of man who makes a girl want to be possessed. And he does possess her, whispering wicked wonderful promises to her, stealing her trust and her heart. Soon though, the past finds her, yanking her from a cocoon of passion and safety. Everything is not how it seems. The truth will shatter her world, but it can set her free, if it doesn't destroy her first.
Li uma novela desta autora no início do ano e fiquei com vontade de ler mais. Este parece-me interessante.
Taking It Off
Claire Kent
Loveswept
251 pp.
Publicado a 24 de Novembro
Can't get enough Magic Mike? Let bestselling author Claire Kent introduce you to Matt Stokes, the sexy-as-sin male stripper and club owner who knows what it really means to bare everything.

Preschool teacher Elizabeth Marks isn't exactly thrilled to be attending a college friend's bachelorette party at a male strip joint. The sights—screaming women, half-naked hunks—are just as sleazy as she expected, with one exception: the man standing at the back, radiating sensual heat despite being fully clothed. When Elizabeth takes refuge outside, he chases her down and dares her to stay. It turns out that her mystery man is the owner—and, as tonight's headliner, the one guy Elizabeth wouldn't mind seeing naked.

Matt Stokes lives his life one day, one dance at a time. But as he challenges Elizabeth to get in touch with the passionate, impulsive woman behind her prim façade, she brings out another side of him as well. This girl isn't just another pretty face—or paying customer—and Matt can't help wanting more. Onstage, he's used to exposing his body. Now Matt will have to expose his heart. Because when it comes to real love, that's the one striptease that matters.
Parece-me muito bem...