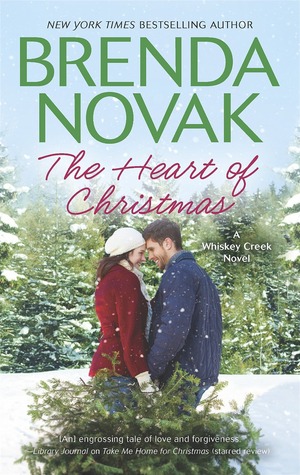 Autor:
Brenda Novak
Série:
Whiskey Creek #7
Editor:
Harlequin
Edição/reimpressão:
Outubro de 2014
ISBN:
9780778316398
Páginas:
384
Origem:
Requisitado no NetGalley
Sinopse: Just call her Christmas Eve…

Eve Harmon has always enjoyed Christmas, but this year it reminds her of everything she doesn't have. Almost all her friends are married now, and that's what Eve wants, too. Love. A husband and kids of her own. But the B and B she manages, and even Whiskey Creek, the small Gold Country town where she was born and raised, suddenly seem…confining.

Eve's worried that her future will simply be a reflection of her past. There's no one in the area she could even imagine as a husband—until a handsome stranger comes to town. Eve's definitely attracted to him, and he seems to have the same reaction to her. But his darkly mysterious past could ruin Eve's happily ever after—just when it finally seems within reach. And just when she's counting on the best Christmas of her life!
A minha opinião:
Depois de terminar
Take Me Home for Christmas
não resisti a ler de seguida a história de Eve. Passou-se um ano desde os eventos de
Take Me Home for Christmas
e aproxima-se mais um Natal. Mais um Natal em que a vida de Eve continua na mesma, ainda solteira, ainda sem quaisquer perspectivas de casar e constituir família, enquanto quase todos os seus amigos parecem estar a avançar com as suas vidas. De tal forma que na noite do seu 35º aniversário ninguém está disponível para festejar. E é assim que, tendo decidido ir ao bar da cidade e festejar sozinha, Eve dá por si a acordar na manhã seguinte na sua cama acompanhada por um completo estranho...
Rex McCready não planeou envolver-se com ninguém quando foi para Whiskey Creek. Mas uma vida inteira de solidão e de fuga começam a pesar e passar a noite com Eve foi um vestígio de normalidade, uma fuga à realidade, uma autêntica necessidade. O problema é que lhe soube a pouco, mas Eve não é o tipo de mulher que se envolve em casos de uma noite. Aquilo que ela quer e procura ele nunca lhe poderá dar, por isso conseguirá ele convencê-la a aproveitar o tempo de que dispõem sem esperar mais do que isso?

Eve tem todos os motivos para não confiar no homem misterioso com quem passou a noite do seu aniversário, mas a atracção é demasiado forte e, estranhamente, Eve confia nele, mesmo que os seus amigos a tentem dissuadir e incutir-lhe o juízo que parece ter perdido... Ela sabe que não pode esperar nada dele, que ele só estará na cidade até ao Natal, mas será ela capaz de aproveitar o tempo que têm sem se envolver?

Este foi o meu livro preferido da série até agora. Fiquei muito satisfeita com o final feliz da Eve e o Rex é um protagonista masculino à sua altura. Mesmo com o seu passado misterioso e perigoso e com todos os seus segredos e mistérios, nunca mente a Eve em relação ao que realmente interessa e está disposto a renunciar à sua felicidade para proteger aqueles de quem mais gosta. E a Eve, depois do que se passou com o Ted, foi muito bom ver finalmente chegada a sua vez de ser feliz. Ah, e foi tão giro ver o quão protector o Ted era dela, em parte devido à amizade que os une e em parte pela sua consciência pesada...

Cada vez estou mais rendida a esta série e às suas personagens e começo a reconsiderar a minha decisão inicial de não ler os anteriores...

Classificação: 4
-------------------------------------------------------------------