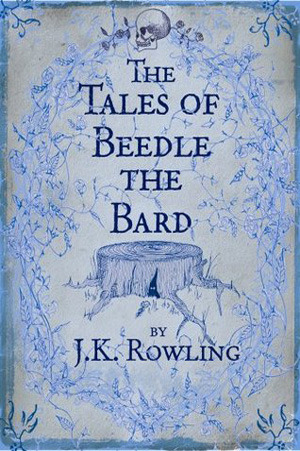 Autor:
J.K. Rowling
Editor:
Bloomsbury
Edição/reimpressão:
Dezembro de 2008
ISBN:
9780747599876
Páginas:
127
Sinopse: The Tales of Beedle the Bard contains five richly diverse fairy tales, each with its own magical character, that will variously bring delight, laughter and the thrill of mortal peril.

Additional notes for each story penned by Professor Albus Dumbledore will be enjoyed by Muggles and wizards alike, as the Professor muses on the morals illuminated by the tales, and revealed snippets of information about life at Hogwarts.

A uniquely magical volume, with illustrations by the author J.K. Rowling, that will be treasured for years to come.
A minha opinião:
Comprei este livro praticamente assim que saiu, estava entusiasmadíssima com ele, e depois ficou cinco anos na prateleira à espera que o lesse... A sério, faço tantas destas, e não faço ideia porquê...
Mas finalmente chegou a sua vez e gostei muito de voltar ao mundo de Hogwarts, ainda que apenas pela leitura do mais famoso livro para crianças do mundo dos feiticeiros.
The Tales of Beedle the Bard é referido em
Harry Potter and the Deathly Hallows, e ficamos a saber da sua importância como o livro infantil mais famoso entre os jovens feiticeiros. Esta é supostamente uma nova edição, traduzida pela Hermione das runas originais e contém anotações feitas pelo Dumbledore. Pormenores simplesmente deliciosos!
Todos os contos têm, à semelhança dos contos de fadas dos Muggles, uma moral da história, mas alguns são bastante pesados para histórias infantis... E essa moral passa também pela aceitação e co-existência pacífica com os Muggles. Uma boa leitura para fãs!
Classificação: 4
-------------------------------------------------------------------