Autor:
Jennie Marts
Série:
The Bannister Brothers #2
Edição/reimpressão:
Dezembro de 2015
ASIN:
B018YIPPKY
Páginas:
93
Sinopse: Addison Cavanaugh had one rule: Do not date hockey players. So kissing the newest trade to her dad's team should have been off-limits--even if he is hot enough to melt the ice.
After being traded in the middle of the season, Bane Bannister wasn't looking for trouble. In fact, he'd been strictly instructed by his new coach to stay out of trouble and away from women. Too bad the only woman he's interested in happens to be the coach's daughter.
Is the hunky hockey player enough to make Addison break her only rule? Is the new player worth the shot or is she risking her heart in a game she can't possibly win?



A minha opinião:
Addison Cavanaugh e Bane Bannister conhecem-se num avião a caminho de St Louis. A atracção entre ambos é imediata e intensa, mas quando descobrem que ela é a filha do novo treinador dele, a relação parece condenada à partida...
É que Addison não namora com jogadores de hóquei. E o pai dela/treinador dele mandou-o afastar-se de sarilhos e de mulheres. E nem imagina que o único sarilho em que Bane se quer envolver é com a filha dele... Mas quando se vêem forçados a conviver, cumprir as regras não é assim tão fácil...
Gostei bastante de
Worth The Shot
. Embora seja o segundo livro de uma série, lê-se bem isoladamente. Adorei a química entre os protagonistas e fiquei muito curiosa para conhecer os restantes irmãos Bannister...
Worth The Shot
é mais uma das novelas incluída na antologia de novelas
Mischief Under the Mistletoe
.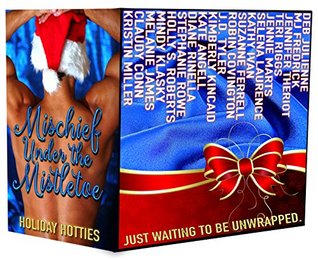 Classificação:
4
-------------------------------------------------------------------