Autor:
M.J. Fredrick
Série:
Welcome to Bluestone #4
Edição/reimpressão:
Dezembro de 2015
ASIN:
B015ASXMU6
Páginas:
91
Sinopse: Come back to Bluestone, Minnesota in a Christmas novella, where single mom Willow Branson has moved from Texas to make a home with her daughter. But moving from a Texas winter to a Minnesota one is more challenging than she expected, and handsome handyman Chase Granzer is more than happy to help her adapt…and keep her warm.



A minha opinião:
No meu caso não foi um regresso, pois foi a minha primeira visita a Bluestone, no Minnesota. Mas não me importava de lá voltar...
Willow Branson acabou de se mudar do Texas para Bluestone, com a filha, depois do divórcio. E está determinada a ser uma mulher independente e a tratar de tudo sozinha. Mas os Invernos no Minnesota são bastante mais rigorosos do que os do Texas...
Felizmente Bluestone é uma cidade pequena onde todos se ajudam, e a ajuda chega na pessoa de Chase Granzer, um faz-tudo que tem todo o prazer em se colocar à sua disposição para a auxiliar em todas as suas necessidades...
Gostei bastante de
Bluestone Christmas
. Adorei ver como, aos poucos, o Chase se foi insinuando na vida da Willow e da filha, mas dando-lhe sempre espaço. E como conseguiu que ela percebesse que deixar alguém entrar e admitir que, às vezes, precisamos de ajuda, não tem de ser uma fraqueza. Um bom conto para ler na época natalícia!
Bluestone Christmas
é mais uma das novelas incluída na antologia de novelas
Mischief Under the Mistletoe
.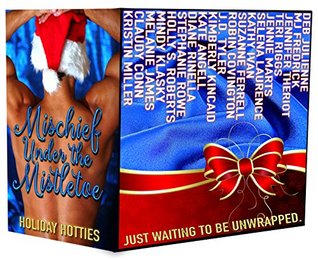 Classificação:
4
-------------------------------------------------------------------