Autor:
Teri Riggs
Edição/reimpressão:
Dezembro de 2015
ASIN:
B0192JX5JC
Páginas:
182
Sinopse: Six months after True's last boss viciously attacked her, she's ready to take her therapist's advice and go back into the work force. She wants her life to be normal again and working for another man will be a giant step towards her goal.

Nick has been betrayed by a pretty face for the last time and has sworn off relationships. Or so he thought until the day his new assistant, True Kelly, walked into his office.

They try to fight their attraction for each other, but fail. Are Nick and True ready to risk their hearts for a chance at happiness?



A minha opinião:
True está prestes a começar um novo emprego, depois de ter sido atacada pelo anterior patrão. Não esperava que o seu novo patrão fosse Nick, o homem com quem teve uma relação há sete anos...
Ela ainda está a recuperar do trauma e ele já foi queimado várias vezes e a última coisa que procuram é uma nova relação, mas a atracção entre eles continua tão forte como antes...
Sinceramente, não fiquei fã... Percebo que a True fosse frágil, até como consequência do que lhe havia acontecido, mas quer dizer, é como se ela tivesse vítima escrito na testa... Não vou contar mais para não
spoilar
, mas digamos apenas que tudo quanto é demais, enjoa... E o Nick também não me convenceu por aí além...
Finding True's Love
é mais uma das novelas incluída na antologia de novelas
Mischief Under the Mistletoe
.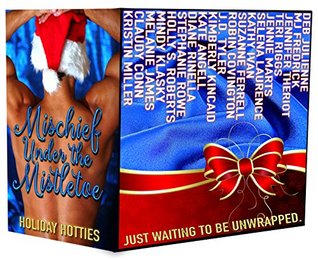 Classificação:
3
-------------------------------------------------------------------