Autor:
Kathy Ivan
Série:
Lovin' Las Vegas #7
Edição/reimpressão:
Dezembro de 2015
ASIN:
B0195R7PL0
Páginas:
182
Sinopse: A HOLIDAY HIT…OR THE BIGGEST MISTAKE OF THEIR LIVES
At her hospital's annual Bachelor Auction, event organizer Dr. Alanna Reeves is blindsided when the tables are turned and Blake Donovan, co-owner of Donovan Developments, offers a huge donation--for her! Too bad she's got plans to spend the holidays in sunny Florida.
Blake Donovan has wanted the sexy-as-sin doctor for as long as he's known her, but the timing's never been right to make his move. Seizing the opportunity to spend some one-on-one time with the woman of his dreams, he decides to tag along on her holiday vacation.
Can a trip to Florida for the holidays help them discover their true feelings or drive them apart forever?



A minha opinião:
No anual Leilão de Solteiros do hospital onde Alanna Reeves trabalha, Blake Donovan troca-lhe as voltas quando oferece uma quantia bastante considerável por ela... Eles estão apaixonados um pelo outro desde adolescentes, mas nunca se proporcionou, e acabam por ter uma relação de amor-ódio que continua até hoje porque ela é a melhor amiga da irmã dele.
Blake decidiu que chegou finalmente a altura de tentar e nem quando ela lhe diz que tem planos para passar a época natalícia na Flórida ele desiste e vai com ela. Serão estas férias tempo suficiente para finalmente resolverem as coisas entre eles?
Gostei bastante de
Yours For The Holidays
. Embora esteja mais habituada a histórias de Natal passadas à lareira, foi uma agradável mudança de cenário ler sobre um Natal passado com calor e à piscina...
É o sétimo livro de uma série e eu até já tenho os primeiros, por isso vou, eventualmente, voltar a ela.
Yours For The Holidays
é mais uma das novelas incluída na antologia de novelas
Mischief Under the Mistletoe
.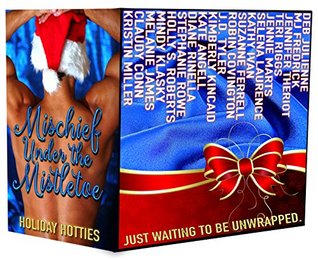 Classificação:
4
-------------------------------------------------------------------