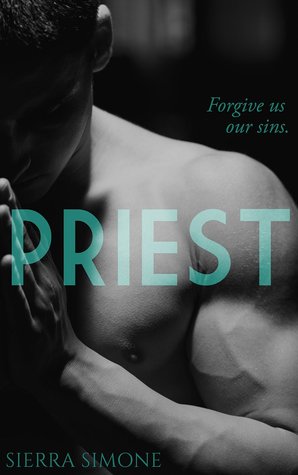 Autor:
Sierra Simone
Edição/reimpressão:
Junho de 2015
ASIN:
B00WHGBTHI
Páginas:
354
Origem:
Gratuito na
Amazon

Sinopse: There are many rules a priest can't break. A priest cannot marry. A priest cannot abandon his flock. A priest cannot forsake his God.

I've always been good at following rules.

Until she came. Then I learned new rules.

My name is Tyler Anselm Bell. I'm twenty-nine years old. Six months ago, I broke my vow of celibacy on the altar of my own church, and God help me, I would do it again.

I am a priest and this is my confession.

A minha opinião: Priest foi, certamente, a surpresa do ano. Apanhei-o gratuito em promoção na Amazon, mas teria ficado, provavelmente, esquecido no meio de todos os outros não fosse uma autora o ter escolhido para uma leitura conjunta no seu grupo do facebook. E em boa hora o fez...

Não sei muito bem do que estava à espera, mas não estava à espera disto... Priest é um romance erótico com um tema tabu: uma história de amor entre um padre católico e uma das suas paroquianas. E é contado no ponto de vista do protagonista. E está tão bem escrito e pensado que prende do início ao fim!

Tyler Bell é padre há três anos e nunca colocou a sua decisão ou a sua vocação em causa durante todo esse tempo. Até ao dia em que Poppy Danforth entra no seu confessionário. E lhe diz que fez algo realmente mau. E ele não consegue deixar de pensar nela...

Eventualmente ela regressa ao confessionário e confessa-lhe os seus pecados. E quando finalmente se vêem fora do confessionário, a atracção é intensa e recíproca. Ele pode ser um padre, mas é também um homem e ela revela-se uma tentação demasiado grande para resistir...

Mas como pode uma relação entre um padre e uma paroquiana alguma vez resultar? Especialmente quando os problemas a seguem e há um motivo ulterior para a decisão dele em se tornar padre?

Como já disse, adorei Priest. A relação entre o Tyler e a Poppy nunca pareceu forçada, pelo contrário, surgiu de forma natural, orgânica e inevitável. As cenas de sexo são das melhores que já li, mas ficam desde já avisados, são realmente fortes e explícitas. E a relação tem elementos de dominador/submissa, mas, garanto, continua a ser uma história de amor.

Nunca tinha lido nada da autora, mas agora quero ler todos os seus livros! E, eventualmente, hei-de lá chegar...

Classificação: 5