Ora aqui estão as novidades internacionais de Outubro que me deixaram mais empolgada: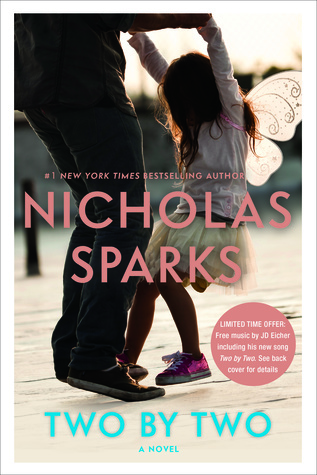 Two by Two
Nicholas Sparks
Grand Central Publishing
300 pp.
Publicado a 4 de Outubro
At 32, Russell Green has it all: a stunning wife, a lovable six year-old daughter, a successful career as an advertising executive and an expansive home in Raleigh. He is living the dream, and his marriage to the bewitching Vivian is the center of that. But underneath the shiny surface of this perfect existence, fault lines are beginning to appear...and no one is more surprised than Russ when he finds every aspect of the life he took for granted turned upside down. In a matter of months, Russ finds himself without a job or wife, caring for his young daughter while struggling to adapt to a new and baffling reality. Throwing himself into the wilderness of single parenting, Russ embarks on a journey at once terrifying and rewarding-one that will test his abilities and his emotional resources beyond anything he ever imagined.
Ainda tenho muitos livros do autor para ler, mas de certeza que vou comprar este quando sair em português...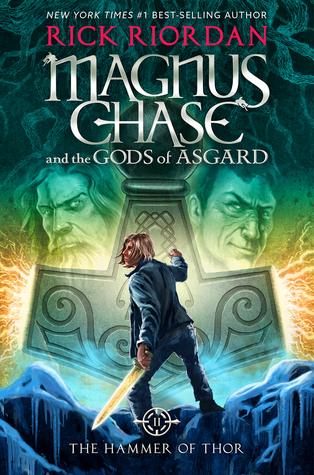 The Hammer of Thor
Magnus Chase and the Gods of Asgard #2
Rick Riordan
Disney Hyperion Books
528 pp.
Publicado a 4 de Outubro
Thor's hammer is missing again. The thunder god has a disturbing habit of misplacing his weapon--the mightiest force in the Nine Worlds. But this time the hammer isn't just lost, it has fallen into enemy hands. If Magnus Chase and his friends can't retrieve the hammer quickly, the mortal worlds will be defenseless against an onslaught of giants. Ragnarok will begin. The Nine Worlds will burn. Unfortunately, the only person who can broker a deal for the hammer's return is the gods' worst enemy, Loki--and the price he wants is very high.
O segundo da nova série do autor e eu que ainda não terminei o Percy...
240 pp.
Publicado a 4 de Outubro
#1 New York Times bestseller Charlaine Harris returns to her Aurora Teagarden mystery series with a fabulous new book featuring the small-town Southern librarian.
Aurora Teagarden is basking in the news of her pregnancy when disaster strikes her small Georgia town: four kids vanish from the school soccer field in an afternoon. Aurora's 15-year-old brother Phillip is one of them. Also gone are two of his friends, and an 11-year-old girl who was just hoping to get a ride home from soccer practice. And then there's an even worse discovery—at the kids' last known destination, a dead body.
While the local police and sheriff's department comb the county for the missing kids and interview everyone even remotely involved, Aurora and her new husband, true crime writer Robin Crusoe, begin their own investigation. Could the death and kidnappings have anything to do with a group of bullies at the middle school? Is Phillip's disappearance related to Aurora's father's gambling debts? Or is Phillip himself, new to town and an unknown quantity, responsible for taking the other children? But regardless of the reason, as the days go by, the most important questions remain. Are the kids still alive? Who could be concealing them? Where could they be?
With Christmas approaching, Aurora is determined to find her brother…if he's still alive.
After more than a decade, #1 New York Times bestseller Charlaine Harris finally returns to her fan-favorite Aurora Teagarden series with All the Little Liars, a fabulously fun new mystery.
Esta série estava a passar-me completamente ao lado até que vi, neste Verão, a adaptação televisiva dos três primeiros livros e agora quero ler todos!
Searching for Disaster
Searching For #4.6
Jennifer Probst
Pocket Star
208 pp.
Publicado a 10 de Outubro
The next highly anticipated novella in the Searching For series, a romantic spin-off of the Marriage to a Billionaire series from
New York Times
bestselling sensation Jennifer Probst.
When Isabella MacKenzie tries to move on from her disastrous past, Officer William Devine is determined to show her that love is the only way to heal. This sexy enovella, the final installment in Jennifer Probst's heartwarming Searching For series, follows the high-powered women of the popular matchmaking agency Kinnections, located in the small, picturesque town of Verily, NY.
Ainda só li dois livros desta série, mas hei-de chegar a todos. Eventualmente...
Her Naughty Holiday
Men at Work #2
Tiffany Reisz
Harlequin
224 pp.
Publicado a 18 de Outubro

A feast she wasn't expecting!
Clover Greene would sooner crawl into her oven than host family for Thanksgiving dinner. Yet another annual ritual of too much food, served with a side of criticism over "Clover's Bad Life Choices." This year, she needs to distract them all—with a handsome fake boyfriend. And she has the perfect guy in mind.
Contractor Erick Fields is the poster boy for sexy single dads, and Clover has been secretly crushing on him for ages. She certainly wasn't expecting Erick to agree to her insane charade…or to add lots of hot, wicked sex to the deal. If they can pull it off, the worst Thanksgiving ever might give them something to be really thankful for!
Já tenho o ARC deste e quero lê-lo pela altura do Natal.
The Twelve Days of Dash and Lily
Dash & Lily #2
Rachel Cohn e David Levithan
Knopf Books for Young Readers
272 pp.
Publicado a 18 de OutubroNew York Times bestselling authors Rachel Cohn and David Levithan are back with a life-affirming Christmas romance starring Dash and Lily.
Dash and Lily have had a tough year since readers first watched the couple fall in love. Lily's beloved grandfather suffered a heart attack, and his difficult road to recovery has taken a major toll on her typically sunny disposition.
With only twelve days left until Christmas—Lily's favorite time of the year—Dash, Lily's brother Langston, and their closest friends take Manhattan by storm to help Lily recapture the holiday magic of New York City in December.
Told in alternating chapters,
The Twelve Days of Dash & Lily
reunites two beloved characters and is bound to be a Christmas favorite, season after season.
Li o primeiro em 2013 e sempre achei que teria gostado mais se o tivesse lido na altura do Natal. Vou ver se consigo fazer isso com este.
Miracle On 5th Avenue
From Manhattan with Love #3
Sarah Morgan
Harlequin
384 pp.
Publicado a 20 de Outubro

Sometimes love needs a Christmas Miracle…
Hopeless romantic Eva Jordan loves everything about Christmas. She might be spending the holidays alone this year, but when she's given an opportunity to housesit a spectacular penthouse on Fifth Avenue, she leaps at the chance. What better place to celebrate than in snow-kissed Manhattan?
What she didn't expect was to find the penthouse still occupied by its gorgeous–and mysterious–owner.
Bestselling crime writer Lucas Blade is having the nightmare before Christmas. With a deadline and the anniversary of his wife's death looming, he's isolated himself in his penthouse with only his grief for company. He wants no interruptions, no decorations and he certainly doesn't appreciate being distracted by his beautiful, bubbly new housekeeper. But when the blizzard of the century leaves Eva snowbound in his apartment, Lucas starts to open up to the magic she brings…
This Christmas, is Lucas finally ready to trust that happily-ever-afters do exist?
Continuo à espera de terminar a série anterior para começar esta. Já só vai acontecer para o ano...