Autor:
Robin Covington
Editor:
Auto-publicado
Edição/reimpressão:
Novembro de 2015
Origem:
Oferecido pela autora em troca de uma opinião honesta
Sinopse:
War tore Gabe and Ellie apart and three years later, he's almost given up any hope that she'll come back to him. When she returns just before the holidays, he wants nothing more for the damaged, stubborn woman he loves to stay forever but she's ready to run as soon as the gifts are opened. Chased by her nightmares, Gabe's only hope of keeping Ellie is to convince her that he'll be there when she opens her eyes.
A minha opinião:
Esta novela começa na véspera da partida dos protagonistas, Gabriel Underwood e Eleanor Compton, para os Marines. São jovens, estão apaixonados e o mundo está cheio de possibilidades!
Sete anos depois, Gabe está de volta a Holly Tree, mas ao contrário do planeado, está sozinho. Mas nunca esqueceu Ellie... Só que a experiência desta na guerra deixou sequelas graves e ela afastou-se de tudo e de todos. Contudo, três anos depois de voltar, Ellie parece finalmente estar a conseguir avançar e é por isso que resolve regressar a casa para passar o Natal e resolver as coisas com Gabe antes de partir para sempre.
Gabe não consegue aceitar que Ellie não faça parte da sua vida e do seu futuro. Não quando é tão óbvio que os sentimentos são correspondidos, nem quando a química entre ambos é tão forte, ou mais ainda, como era há sete anos. Conseguirá ele convencê-la que é possível avançar no local onde temos raízes? E a dar-lhes finalmente uma hipótese para serem felizes?
Gostei desta história por diversos motivos. Por um lado, o protagonista é o que tem a certeza dos seus sentimentos e daquilo que quer e é a protagonista que tem assuntos a resolver e a ultrapassar (geralmente costuma ser ao contrário...). Depois adorei todo o ambiente de cidade pequena, mas adorável, que a autora transmite, com todas as personagens que os protagonistas encontram a torcer por eles e a dar pequenos toques para os ajudar a ficar juntos. Adorei especialmente a tia-avó Loretta, que tem umas tiradas fantásticas! Por último, achei que a autora fez um bom trabalho, tratando-se de uma novela, no desenvolver do trauma da Ellie, um problema infelizmente comum a tantos militares.
Esta história faz parte de uma antologia de novelas de Natal de diferentes autoras e eu pretendo ler mais algumas em breve. E pretendo ler mais desta autora, sem dúvida!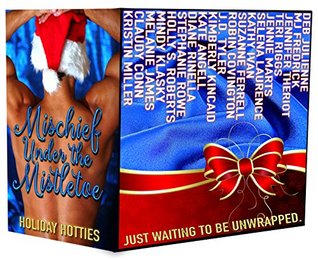 Classificação:
3