E, finalmente, as novidades internacionais de Outubro: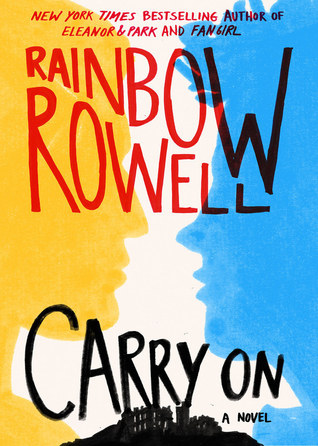 Carry On
Rainbow Rowell
St. Martin's Griffin
384 pp.
Publicado a 6 de Outubro
Rainbow Rowell continues to break boundaries with Carry On, an epic fantasy following the triumphs and heartaches of Simon and Baz from her beloved bestseller Fangirl.

Simon Snow just wants to relax and savor his last year at the Watford School of Magicks, but no one will let him. His girlfriend broke up with him, his best friend is a pest, and his mentor keeps trying to hide him away in the mountains where maybe he'll be safe. Simon can't even enjoy the fact that his roommate and longtime nemesis is missing, because he can't stop worrying about the evil git. Plus there are ghosts. And vampires. And actual evil things trying to shut Simon down. When you're the most powerful magician the world has ever known, you never get to relax and savor anything.

Carry On is a ghost story, a love story, a mystery and a melodrama. It has just as much kissing and talking as you'd expect from a Rainbow Rowell story — but far, far more monsters.
Finalmente! Com licença que vou ali ao Book Depository e já volto...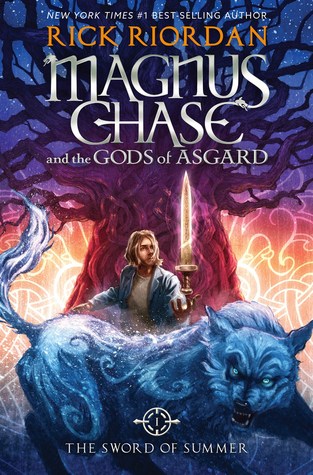 The Sword of Summer
Rick Riordan
Disney Hyperion Books
528 pp.
Publicado a 6 de Outubro
Magnus Chase has always been a troubled kid. Since his mother's mysterious death, he's lived alone on the streets of Boston, surviving by his wits, keeping one step ahead of the police and the truant officers.

One day, he's tracked down by a man he's never met—a man his mother claimed was dangerous. The man tells him an impossible secret: Magnus is the son of a Norse god.

The Viking myths are true. The gods of Asgard are preparing for war. Trolls, giants and worse monsters are stirring for doomsday. To prevent Ragnarok, Magnus must search the Nine Worlds for a weapon that has been lost for thousands of years.

When an attack by fire giants forces him to choose between his own safety and the lives of hundreds of innocents, Magnus makes a fatal decision.

Sometimes, the only way to start a new life is to die . . .
Ai, ainda não acabei a série do Percy Jackson e o autor já vai lançar mais uma... Por outro lado, já tenho presente de Natal para o mano!
The Lake House
Kate Morton
Atria Books
512 pp.
Publicado a 20 de Outubro
From the New York Times and internationally bestselling author of The Secret Keeper and The Distant Hours, an intricately plotted, spellbinding new novel full of suspense and uncovered secrets.

Living on her family's gorgeous lakeside estate in Cornwall, England, Alice Edevane is a bright, clever, inquisitive, innocent, and precociously talented fourteen-year-old who loves to write stories. But the mysteries she pens are no match for the one her family is about to endure…

One midsummer's eve, after a beautiful party drawing hundreds of guests to the estate has ended, the Edevanes discover that their youngest son, Theo, has completely disappeared. Vanished without a trace. What follows is a tragedy that tears the family apart in ways they never imagined, leaving their estate as empty as their sunken hearts.

Nearly sixty years later, having enjoyed a long, successful career as an author, Alice is now eighty years old and living in London. Theo's case has never been solved, though Alice still harbors a suspicion as to the culprit. Miles away, Sadie Sparrow, a young detective in the London police force, is staying at her grandfather's house in Cornwall. While out walking one day, she stumbles upon the old estate—now crumbling and covered with vines, clearly abandoned long ago. Her curiosity is sparked and sets off a series of events that will bring her and Alice together and reveal shocking truths about a past long gone...yet more present than ever.

A lush, atmospheric tale of intertwined destinies, this latest novel from a masterful storyteller story is a spellbinding and satisfying read.
O que me lembra que este ano ainda não li nenhum livro da autora. Imperdoável!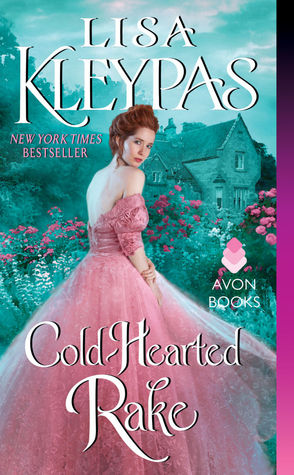 Cold-Hearted Rake
Lisa Kleypas
Avon
384 pp.
Publicado a 27 de Outubro

A twist of fate...

Devon Ravenel, London's most wickedly charming rake, has just inherited an earldom. But his powerful new rank in society comes with unwanted responsibilities . . . and more than a few surprises. His estate is saddled with debt, and the late earl's three innocent sisters are still occupying the house . . . along with Kathleen, Lady Trenear, a beautiful young widow whose sharp wit and determination are a match for Devon's own.

A clash of wills...

Kathleen knows better than to trust a ruthless scoundrel like Devon. But the fiery attraction between them is impossible to deny—and from the first moment Devon holds her in his arms, he vows to do whatever it takes to possess her. As Kathleen finds herself yielding to his skillfully erotic seduction, only one question remains:

Can she keep from surrendering her heart to the most dangerous man she's ever known?
A Lisa Kleypas tem uma série nova. Não é preciso dizer mais nada, pois não?
A Winter Wedding
Brenda Novak
Mira
384 pp.
Publicado a 27 de Outubro
One Christmas can change your life...

Kyle Houseman believes he'll never find anyone he could love as much as Olivia Arnold, who's now married to his stepbrother. Not only did he lose her, he's been through one divorce and has no desire to go through another. He's determined to be extra careful about the next woman he gets involved with—which is why he fights his attraction to the beautiful stranger who rents his farmhouse for the Christmas holiday.

Lourdes Bennett is a country music artist. She's only planning to stay in Whiskey Creek long enough to write the songs for her next album—the album that's going to put her back on top. Her dreams don't include settling in a town even smaller than the one she escaped. But as she comes to know Kyle, she begins to wonder if she'd be making a terrible mistake to leave him behind.
O livro do Kyle! O livro do Kyle!
All I Need Is You
Wendy S. Marcus
Loveswept
252 pp.
Publicado a 6 de Outubro
Perfect for fans of Kristan Higgins and Robyn Carr, this sexy yet sweet military romance reunites a headstrong dancer and a rugged army soldier after one steamy encounter tears them apart.

As a dancer who creates mesmerizing visions onstage, Neve James is looking for the same kind of stability in her love life. Her pen pal, Rory McRoy, is on leave from deployment in Afghanistan, so she heads to Boston to surprise him. After corresponding for months as part of a "Support Our Troops" initiative—and exchanging dozens of "Read When You're Alone" letters—Neve knows what Rory likes, and she intends to fulfill his every fantasy. But all they get are a few blissful moments together before they're interrupted by a woman claiming to be Rory's fiancée.

Rory has fallen hard for Neve's letters. When he finally meets her in person, he has to have her, right then and there—until Neve takes off in a fit of anger. Forced to return to Afghanistan before he can fix things between them, Rory waits four agonizing months to prove that he's not the man Neve thinks he is. But by the time he arrives in New York, she's already made up her mind. Luckily, Rory never backs down from a challenge, and he's prepared to put everything on the line for love.
A minha leitura actual...
Love on a Summer Night
Zoe York
Publicado a 31 de Outubro
Zander Minelli has six months left in his Army career, and then he's coming home to Pine Harbour for good. But first he needs to figure out what he's going to do with the rest of his life--after he spends a good long while kicking back and enjoying his freedom.

Widowed single mother Faith Davidson is ready to start dating again. But only someone solid, with a job and a pension and absolutely no tattoos. Definitely not someone who's only in town for a week, whose extended life plans include riding his motorcycle across the country and sleeping until noon.
Ainda não comecei esta série, mas está na lista...
Dance In The Wind
Jennifer Probst
Evil Eye Concepts, Inc.
Publicado a 15 de Outubro
Secrets, Sex and Scandals …

Welcome to Storm, Texas, where passion runs hot, desire runs deep, and secrets have the power to destroy… Get ready. The storm is coming.

During his time in Afghanistan, Logan Murphy has endured the unthinkable, but reentering civilian life in Storm is harder than he imagined. But when he is reacquainted with Ginny Moreno, a woman who has survived terrors of her own, he feels the first stirrings of hope.
Provavelmente não lerei toda a série, mas gostava de ler este...
Darker the Release
Claire Kent
Loveswept
Publicado a 6 de Outubro
USA Today bestselling author Claire Kent continues her emotionally charged story of longing, betrayal, and insatiable desire as two lovers find themselves in a deadly standoff of seduction.

Kelly Watson got involved with mogul Caleb Marshall for all the wrong reasons: namely, to prove that he murdered her father twenty years ago. But Caleb is hotter than hell, the sex is mind-blowing, and Kelly's afraid that she's falling for him despite her chilling suspicions. Now, the more time she spends in his arms, the more she risks betraying her identity and losing her heart. The only way out is to discover the truth before Caleb figures out who she really is.

Caleb's feelings for Kelly are taking him into uncharted territory, replacing his weakness for call girls and one-night stands with a hunger for something real. Still, the ruthless businessman in him can't resist looking into Kelly's background. When his investigation suggests that he's not the only one with something to hide, Caleb is forced to decide if he can trust someone who's been telling him lies. For the first time, Caleb understands how intimacy can be so tempting—and, in the wrong hands, so dangerous.
E é assim que me apercebo que esta nova série da autora é contínua...
Deceived
Jess Michaels
The Passionate Pen
218 pp.
Publicado a 13 de Setembro
Josie Westfall spent a lifetime feeling alone and bullied and an unfortunate incident involving her best friend's brother, Evan, only made things worse. Still, when she and her mother are invited to the wedding he will be attending, they can't exactly refuse. She hopes to avoid him, but instead they are thrown together and she is shocked to find that she actually begins to like the man she's thought of as an enemy for years.

Evan has always felt terrible about what he said to Josie years before, but he's never quite been able to make it up to her. When he tries, he discovers Josie may have a few secrets and some information about his missing sister. Now he must decide, should he betray her by trading on the unexpected attraction between them and discover what she knows? Or could the possibility of love be worth more than anything else?
Já há algum tempo que a autora não aparecia por aqui...
Tall, Dark and Wicked
Madeline Hunter
Jove
432 pp.
Publicado a 6 de Outubro
The safest place is with the guy she doesn't trust...

It's no secret amongst the Phantoms crew that lead investigator Sammy Hanesworth pretty much hates psychologist Cain McClutchen. The tension between them is taut with dislike...and unexpected attraction. Cain knows full well that something about him rubs Sammy the wrong way. But now they're on a terrifying case-with orders from the network to get along or else.

Filled with past horrors, the Nebraskan site is more than creepy. And Sammy knows it all too well. It's her hometown and near the place where her mother was killed. As the sinister presence makes itself known, Sammy finds herself turning to the last person she ever expected-Cain. Even as darkness surrounds them, tensions gives way to something bright and unexpectedly intimate. But nothing will prepare them for the evil they are about to face...
Tenho tanta curiosidade com esta série... Espero mesmo que seja publicada por cá...