E, agora aqui ficam as novidades internacionais de Agosto que achei mais interessantes: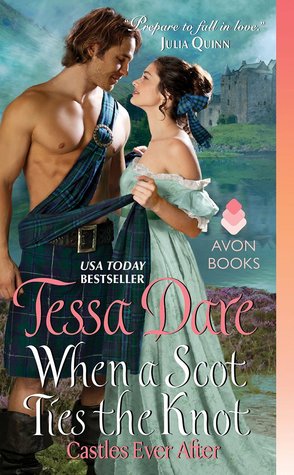 When a Scot Ties the Knot
Tessa Dare
Avon
384 pp.
Publicado a 25 de Agosto
On the cusp of her first London season, Miss Madeline Gracechurch was shyly pretty and talented with a drawing pencil, but hopelessly awkward with gentlemen. She was certain to be a dismal failure on the London marriage mart. So Maddie did what generations of shy, awkward young ladies have done: she invented a sweetheart.

A Scottish sweetheart. One who was handsome and honorable and devoted to her, but conveniently never around. Maddie poured her heart into writing the imaginary Captain MacKenzie letter after letter … and by pretending to be devastated when he was (not really) killed in battle, she managed to avoid the pressures of London society entirely.

Until years later, when this kilted Highland lover of her imaginings shows up in the flesh. The real Captain Logan MacKenzie arrives on her doorstep—handsome as anything, but not entirely honorable. He's wounded, jaded, in possession of her letters… and ready to make good on every promise Maddie never expected to keep.
Li um conto desta autora este ano e agora quero ler todos os seus livros!
Heat Exchange
Shannon Stacey
Carina Press
336 pp.
Publicado a 25 de Agosto
Lydia Kincaid's shipping back to Boston, but she's not happy about it. She left to get away from the firefighting community—her father was a firefighter, her brother's a firefighter and, more important, her ex is a firefighter. But family is number one, and her father needs her help running the pub he bought when he retired. Soon, Lydia finds it hard to resist the familiar comfort and routine, and even harder to resist her brother's handsome friend Aidan.

Aidan Hunt is a firefighter because of the Kincaid family. He's had the hots for Lydia for years, but if ever a woman was off-limits to him, it's her. Aside from being his mentor's daughter, she's his best friend's sister. The ex-wife of a fellow firefighter. But his plan to play it cool until she leaves town again fails, and soon he and Lydia have crossed a line they can't uncross.

As Aidan and Lydia's flirtation turns into something more serious, Lydia knows she should be planning her escape. Being a firefighter's wife was the hardest thing she's ever done, and she doesn't know if she has the strength to do it again. Aidan can't imagine walking away from Boston Fire—even for Lydia. The job and the brotherhood are his life; but if he wants Lydia in it, he'll have to decide who's first in his heart.
Também li um conto desta autora no ano passado e fiquei com muita curiosidade para ler mais alguma coisa escrita por ela. Esta nova série parece-me perfeita para isso.
Melting Point
Kate Meader
Pocket Star
121 pp.
Publicado a 31 de Agosto
Firefighter Gage Simpson has it all: the job of his dreams, the family of his heart, and no shortage of hot guys lining up to share his bed. "Fun and easy" is his motto—and it's kept him sunny through a painful upbringing and steered him away from trouble. But when trouble comes knocking in the form of a sexy, scarred, tattooed chef with a harrowing past and zero communication skills, Gage can't help but be drawn to the flame.

Brady Smith isn't fun. And easy isn't in his vocabulary. When cocky Gage swaggers into his restaurant kitchen, the former Marine-turned-five-star-chef is blindsided by the firefighter's beauty. Then confused that this golden guy with the sparkling blue eyes and the body of a god might be interested in him. As desire flares and temperatures rise, Gage and Brady will have to figure out if the heat between them is just a temporary flash—or the beginning of something real.
Ainda não comecei a ler esta série, mas esta novela com dois bombeiros como casal protagonista promete...
Summer Dreaming
Liz Matis
Little Hondo Press
152 pp.
Publicado a 4 de Agosto
I'm looking for a hero. Not.
You'd think as a new college grad I'd be looking for the perfect job and the perfect man. Well, I'm not. Summer is here and instead of plotting my future, I'm playing in the Hamptons with my two best friends. Sun and sex is all I'm looking for. Then I meet Sean Dempsey, my fantasy lifeguard in the flesh. But he is more than just a hot bod with a whistle. And after he makes a daring save, I'm thinking a hero is exactly what I've been looking for all along.

To the rescue…
By day I guard the beaches in the Hamptons, by night I've had my fair share of summer flings. Then I meet Kelsey Mitchell, a girl with eyes like the setting sun and I burn for more. Something I have no right to ask of her…forever.

Love burns hotter in the Hamptons. Come play.
Summer Temptation
Wendy S. Marcus
140 pp.
Publicado a 4 de Agosto
Meet Leigh DeGray...

After graduating college with honors and landing the job of my dreams in New York City, I'm off to The Hamptons to spend the summer with my two best friends. My life seems perfect, right? It's not. The truth is, I have a secret that may make the future I'd planned so carefully completely fall apart. A hot summer romance is the absolute last thing I'm looking for... Until I meet a man who tempts me like no other and shows me a hot summer romance is exactly what I need.

Meet Nick Kenzy...

After two years of working my ass off as a Wall Street analyst, I'm out of a job, with no warning, no thank you, and no severance. Am I angry? You're damn right I am. So when I head to the Hamptons for the weekend to spend time with my granddad, I plan to regroup and relax before I return to the city to hit the job search hard. I don't need any distractions. Then I meet Leigh. Suddenly, a summer temptation makes me question everything I want for my future...

Love burns hotter in the Hamptons. Come play.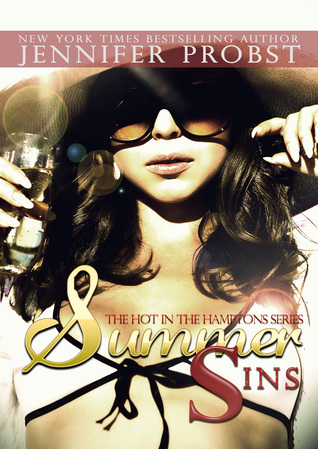 Summer Sins
Jennifer Probst
Cool Gus Publishing
150 pp.
Publicado a 4 de Agosto
Can the bad boy of Copper Ridge, Oregon, make good—and win the rodeo girl of his dreams?

Kate Garrett keeps life simple—working hard, riding her beloved horses, playing cards with her brothers. Lately, though, she feels a bit restless, especially when family friend Jack Monaghan is around. Sexy and shameless, Jack is the kind of trouble you don't tangle with unless you want your heart broken. Still, Kate could always use his help in learning how to lasso someone a little less high-risk…

Jack can't pinpoint the moment the Garrett brothers' little sister suddenly stopped seeming so…little. Now here he is, giving flirting tips to the one woman who needs zero help turning him on. Love's a game he's never wanted to play. But he'll have to hurry up and learn how before the best thing that ever entered his life rides right back out again…
Tive a oportunidade de ler toda a série este Verão e adorei a experiência!
Accidentally Seduced
Carmen Falcone
148 pp.
Publicado a 25 de Agosto
For business and for pleasure…

Devon Wilder wants to leave the scandal involving his name behind and focus on the race for the CEO title. Yet, his sexy assistant is an unexpected and dangerous liability—especially after he suspects she could be the one stealing money from the company.

Elena Moretti's libido was comatose until Devon strode into her life. Ever since the end of a troubled marriage, she never wanted any man the way she does him. Unfortunately for her, Devon is also the man she's been hired to spy on and find evidence to prove he's embezzling and dragging Wilder & Co.'s name through the mud.

As the hunt for the real thief advances, they need to figure out if they'll cling to old fears or throw themselves at the new, tempting opportunities—and each other.
Também já tive oportunidade de o ler e é muito bom! Pode ser lido separadamente do resto da série.
One Breathless Night
Jo Leigh
Harlequin
288 pp.
Publicado a 18 de Agosto
Countdown to trouble in 3…2…1…
Jenna Delaney has her life all mapped out—work, fiancé, financial plan. But when the clock strikes midnight on New Year's Eve, Jenna's best-laid plans disappear. Instead, she finds herself lip-locked with the hunkiest of all hot male strangers. And whoa, serious fireworks. The kind that make a girl plan on how to get best laid!
Rick Sinclair is blown away by the sheer force of their chemistry, especially when they end up at his borrowed high-tech "smart" apartment. Except that this apartment seems to know just how to set up a seduction…because suddenly Jenna is in Rick's bed. And this one breathless night could take them anywhere…
ALSO INCLUDED IN THIS VOLUME
HARD KNOCKS by New York Times bestselling author Lori Foster
Desta autora já li uma livro e não resisti a requisitar mais este no NetGalley.