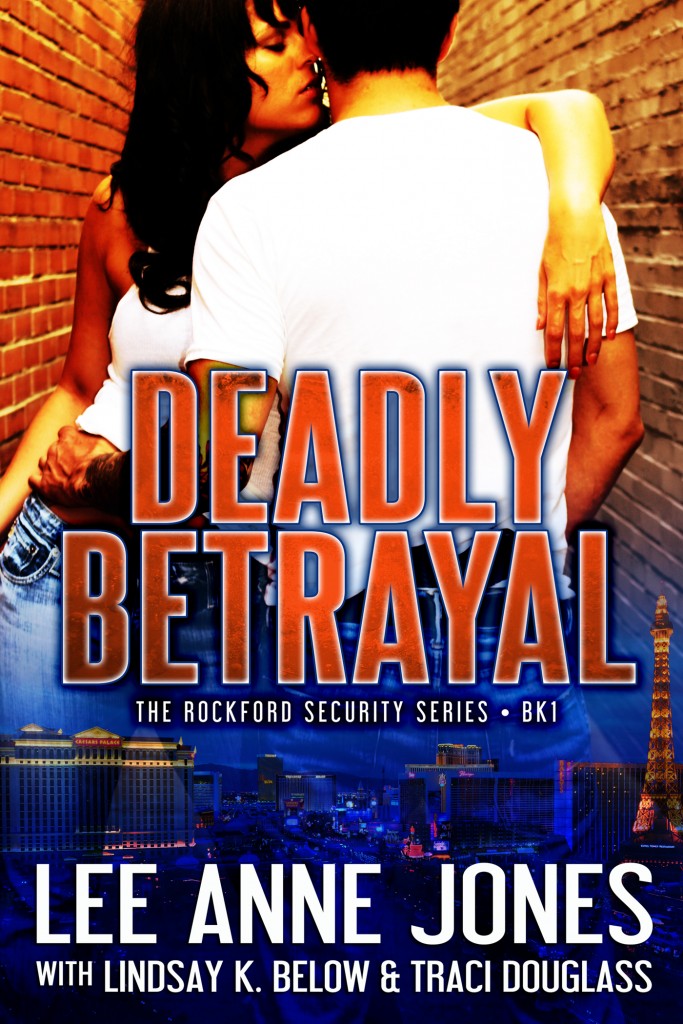 Autor:
Lee Anne Jones com Lindsay K. Below e Traci Douglass
Série: Rockford Security #1
Editor: Auto-publicado
Edição/reimpressão: Fevereiro de 2016
ASIN: B01C4VW604
Páginas: 330
Origem: Recebido como parte de uma blog tour em troca de uma opinião sincera
Sinopse:
Country music star January Winters knew the rise to fame would be hard. She never expected her arrival to be met with danger. But when a stalker's attempts go from creepy to deadly, even the fearlessly independent Jan gives into her producer's demands that they hire a bodyguard. But that was before she realized who would be guarding her body…
A knee injury might have ruined his football career, but it didn't stop Dino Machiavelli from becoming the best bodyguard in Vegas. He can literally pick and choose his assignments—and he never picks guarding diva celebrities. At least not until his boss makes one assignment impossible for him to refuse and he finds himself too close for comfort with the one girl that ripped out his heart fifteen years ago.
When the stalker's actions escalate, Dino and Jan fight their sizzling attraction as they come to the shocking realization that the stalker may be closer to Jan the either of them ever imagined. And it might be too late to show each other their love again with a maniac intent on murder.

A minha opinião: January Winters tem tudo aquilo com que sempre sonhou: é uma estrela da música country, mas não é feliz... Não tem família, também não tem amigos, e vive isolada e apenas para a sua carreira. E o pior é que parece que agora tem um perseguidor...

E é assim que Dino Machiavelli volta à sua vida... Dino e Jan namoraram no secundário, mas ela terminou tudo quando lhe contaram que ele a tinha traído com uma líder de claque. E, ao invés de o confrontar, ela resolveu terminar tudo antes que ele o fizesse. Afinal, era inevitável, não era? Que o popular quarterback se fartasse da relação casta que tinha com a música totó? Para além disso ele iria para a faculdade com uma bolsa em breve, pelo que ela só adiantou o inevitável, certo?

Errado, porque Dino nunca a esqueceu, nem o sofrimento por que passou por nunca ter sabido o porquê dela ter terminado o namoro... Uma lesão fez com que o sonho de uma carreira no futebol americano terminasse ainda antes de ter começado, e actualmente Dino trabalha na empresa de segurança da família do seu melhor amigo. E, por uma cruel partida do destino, é o único disponível para proteger Jan...

Jan não acredita realmente estar em perigo, pelo menos não em relação ao perseguidor. O perigo advém da incrível química que ainda tem com Dino. E, se não tiver cuidado, o seu coração poderá estar em perigo mais uma vez...

Dino também não leva a ameaça a sério ao início. Afinal fãs perturbados fazem parte do pacote de uma estrela musical, certo? Mas à medida que se torna claro que Jan pode realmente estar em perigo, Dino não tem dúvidas de que dará a vida para proteger a mulher que nunca deixou de amar.

Tive alguns problemas com Deadly Betrayal, especialmente em relação à Jan. Eu percebo que ela não quisesse sequer considerar a hipótese do perseguidor poder ser perigoso ao início, mas ocultar informação da pessoa responsável por a proteger parece-me incrivelmente estúpido. E como, por Deus, é que ela não acha estranho alguém ter um par de sapatos extra na mala numa festa? O Dino foi ligeiramente melhor, mas pouco. Para alguém anunciado como o melhor no ramo, deixar a pessoa que foi contratado para proteger sozinha em casa sem sequer verificar a casa ou o perímetro só porque tem medo de não lhe conseguir resistir a saltar para cima e/ou está danado com ela é, no mínimo pouco profissional. E a sério que demorou tanto tempo a juntar as pistas?

Já deu para perceber que a identidade do perseguidor é óbvia bastante cedo, não já? É de tal modo óbvia que cheguei a pensar que não podia ser, porque nunca podia ser assim tão óbvio... Só não percebo como não foi óbvio para nenhum dos personagens... Enfim, o romance é giro e a química entre os protagonistas é convincente, mas fiquei com um sabor amargo no final pois podia ter sido tão melhor...

Classificação: 2