Porque decidi que este ano tentaria divulgar atempadamente as novidades que me parecem mais interessantes, aqui ficam as novidades internacionais de Fevereiro:
First Time in Forever
Sarah Morgan
Harlequin
384 pp.
Publicado a 24 de Fevereiro
Windswept, isolated and ruggedly beautiful, Puffin Island is a haven for day-trippers and daydreamers alike. But this charming community has a way of bringing people together in the most unexpected ways…

It's been a summer of firsts for Emily Donovan. From becoming a stand-in mom to her niece Lizzie to arriving on Puffin Island, her life has become virtually unrecognizable. Between desperately safeguarding Lizzie and her overwhelming fear of the ocean—which surrounds her everywhere she goes!—Emily has lost count of the number of "just breathe" pep talks she's given herself. And that's before charismatic local yacht club owner Ryan Cooper kisses her…

Ryan knows all about secrets. And it's clear that newcomer Emily—with her haunted eyes and the little girl she won't let out of her sight—is hiding from something besides the crazy chemistry between them. So Ryan decides he's going to make it his personal mission to help her unwind and enjoy the sparks! But can Puffin Island work its magic on Emily and get her to take the biggest leap of trust of all—putting her heart in someone else's hands?

Este sim é o primeiro da série (o que anunciei no mês passado é uma espécie de prequela) e já o tenho no kindle a aguardar a sua vez...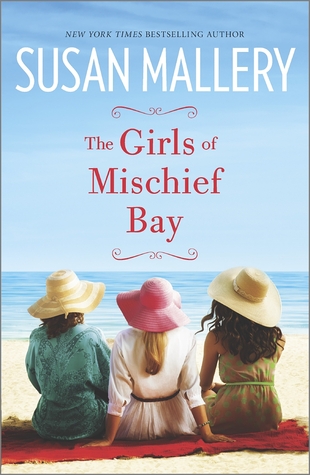 The Girls of Mischief Bay
Susan Mallery
Harlequin
416 pp.
Publicado a 24 de Fevereiro
Nicole Lord wants to be a good wife, but there's a difference between being supportive and supporting her husband, who quit his job to write a screenplay she's never seen. He won't even help take care of their son, leaving Nicole to run the house and work full-time at her Mischief Bay Pilates studio. Can she say enough is enough without losing the man she loves?

Sacrificing a personal life for her career is how Shannon Rigg rose to become vice president in her firm, but she wonders now whether she made the right choice. An exciting new relationship with a great guy convinces her that it might not be too late—until he drops a bombshell that has her questioning whether she can have it all. And if she can, does she want it?

Although Pam Eiland has a beautiful house and a husband she adores, she feels… restless. She wonders who a stay-at-home mom becomes after the kids are grown. Finding sexy new ways to surprise her husband brings the heat and the humor back to their marriage, but when unexpected change turns her life upside down, she'll have to redefine herself. Again.

Through romance and heartbreak, laughter and tears, three very different women will discover that friends can become family, and that life is richer with sisters at your side.

Mais uma nova série que me parece bastante interessante.
Jojo Moyes
Penguin UK
95 pp.
Publicado a 5 de Fevereiro
Bestselling author Jojo Moyes brings us a charming and heart-warming short story in association with Quick Reads.

Nell is twenty-six and has never been to Paris. She has never even been on a weekend away with her boyfriend. Everyone knows she is just not the adventurous type.

But, when her boyfriend doesn't turn up for their romantic mini-break, Nell has the chance to prove everyone wrong.

Alone in Paris, Nell meets the mysterious moped-riding Fabien and his group of carefree friends. Could this turn out to be the most adventurous weekend of her life?

É apenas um conto, mas mesmo assim vou querer ler.



14th Deadly Sin
James Patterson
Century
384 pp.
Publicado a 26 de Fevereiro
Detective Lindsay Boxer and her three best friends are back and recovering from the events that pushed them all to the edge. After her near-death experience, Yuki is seeing her life from a new perspective and is considering a change in her law career. San Francisco Chronicle reporter Cindy has healed from her gunshot wound and has published a book on the infamous serial killers she helped to bring down. Lindsay is just happy that the gang are all still in one piece.

But a new terror is sweeping the streets of San Francisco. A gang dressed as cops are ransacking the city, and leaving a string of dead bodies in their wake. Lindsay is on the case to track them down and needs to discover whether these killers could actually be police officers. Maybe even cops she already knows...
Ando tão, mas tão atrasada com esta série... Tipo, 10 livros atrasada! Mas é uma das que pretendo recomeçar este ano sem falta!
Marguerite Kaye
Harlequin
288 pp.
Publicado a 17 de Fevereiro
The truth behind the hero Officer Jack Trestain may have been one of Wellington's most valued code-breakers, but since Waterloo, he's hung up his uniform. If only he could just as easily put aside the tortured memories he carries deep within; Perhaps enchanting French artist Celeste Marmion might be the distraction he so desperately craves?

Except Celeste harbors secrets of her own, and questions that she needs Jack's help to solve! With Celeste's every touch an exquisite temptation, how close can Jack get without revealing his darkest secret of all?
Mais uma série que vou começar (já está no kindle) este ano. Sim, eu sei que tenho um problema...